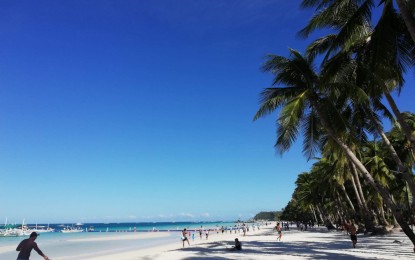 MANILA – The Boracay Inter-agency Task Force (BIATF) on Thursday approved the reopening of Boracay to tourists from Western Visayas starting June 16.
This was announced by Environment and Natural Resources Secretary Roy Cimatu, citing the island's readiness to accept local travelers.
"The local government (of Aklan) passed a resolution before the BIATF today, the task force approved the recommendation of the local government unit (LGU) of the opening of Boracay for tourism effective June 16 this year but will only be applicable to tourists coming from Western Visayas," he told reporters during a BIATF-hosted virtual presser.
Among the factors considered in the reopening was the progress of Aklan in controlling the coronavirus infections, said Interior Secretary Eduardo Año.
"Boracay is zero coronavirus disease, in fact, the whole Aklan. They've had positive cases who are returning Filipinos but these cases have been managed already," he said in Filipino.
While tourism resumes, Año said restrictions such as curfew may still be imposed within the discretion of LGU. "They can still impose curfew under MGCQ (modified general community quarantine)."
Under new normal
The BIATF has yet to enumerate the tourism activities allowed on the island but the general idea is anchored on "no contact" movements. Those below 21 years old and above 60 years old would also be denied entry in compliance with the existing MGCQ guidelines.
With Boracay under the "new normal", Tourism chief Bernadette Romulo-Puyat said the same protocols applied for MGCQ areas will serve as rules for hotel operations.
Under said guidelines, accommodation establishments are required to impose stringent measures for physical distancing.
All hotels in Boracay had been accredited by the Department of Tourism (DOT) following its previous six-month closure but Romulo-Puyat said they would have to submit a letter of intent to operate in the reopening.
"We are just waiting for the letter of intent, we are ready to give certificates to operate to all the hotels. It's also good news that there are zero-Covid cases in Boracay for more than a month... Ready na ready na actually ang Boracay and Aklan ( Boracay and Aklan are actually ready [to accept guests])," she said.
She also hailed the protocols being set in place at the Bolabog Hospital as well as the nearly finished Covid-19 testing laboratory in Aklan.
"Maganda na rin 'yong kanilang protocols pagpasok (Their protocols upon entry are good) so we are quite excited to showcase Boracay again not only of sustainable tourism but (of being) Covid-free," she told reporters. (PNA)