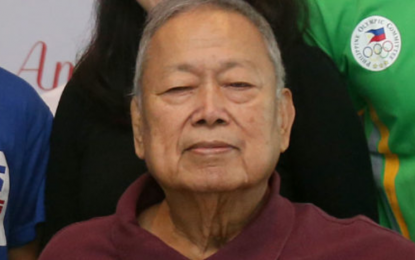 MANILA – Nic Jorge, who revolutionized grassroots basketball through his Milo Basketball Efficiency and Scientific Training (BEST) Center program, passed away on Saturday. He was 78.
Through the Milo BEST Center, Jorge, who died in his sleep, helped carve the career path of many Philippine Basketball Association (PBA) players of the past and present, the most popular current star being NLEX's Kiefer Ravena.
After playing college basketball for the University of the Philippines (UP) during the 1960's, Jorge immediately went into coaching for the said team at a young age of 21 and instantly made an impact in the amateur scene.
His most popular stint came in 1978 when he coached the Philippine team in the FIBA World Cup held at the Smart Araneta Coliseum in Quezon City, and right after that, he founded the BEST Center, which was eventually absorbed by Milo into its Summer Sports Clinics.
Two years later, he gave professional basketball a try after signing up as head coach for the Galleon Shippers in the PBA.
Despite having respectable records in the Open and the All-Filipino Conferences in the 1980 and 1981 seasons, the Galleon franchise, which later took the name CDCP Road Builders, never made the playoffs as well as the 1980 Invitational Tournament, and the club disbanded after just two seasons.
Jorge's hiatus from PBA did not last long as the Manhattan Shirtmakers signed him up to be their head coach for the 1983 season in hopes of continuing the legacy the former owners of their franchise, the U/Tex Wranglers, left behind.
However, the Manhattan franchise only went 2-7 in what is now known as the Philippine Cup, and just two games into the Reinforced Conference, Jorge was replaced by Glenn McDonald, who was actually its import for that tournament.
Jorge made his way back to his alma mater in 1990 and led the UP Fighting Maroons to their last UAAP Final 4 appearance prior to their current title contender status they are enjoying under Bo Perasol.
"We will continue to admire and remember Mr. Jorge's contribution to the Fighting Maroons and to the Philippine basketball," UP said in a statement.
He also coached Mapua in the National Collegiate Athletic Association. (PNA)