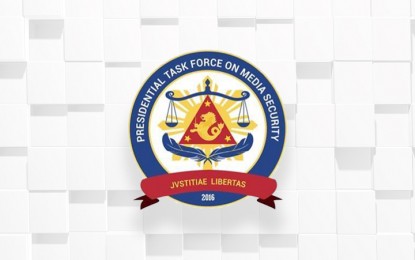 MANILA – The Presidential Task Force on Media Security (PTFoMS) has expressed alarm over reports that investigators tasked to resolve the recent killing of Dumaguete City-based radio anchor Cornelio "Rex" Pepino are being subjected to serious threats and intimidation by some unscrupulous individuals in Negros Oriental.
PTFoMS Executive Director, Undersecretary Joel Sy Egco, said his office has been receiving regular updates from both the Philippine National Police (PNP) and the National Bureau of Investigation (NBI) regarding the ongoing investigation, including reports of alleged obstruction by some local officials and the recent harassment on agents of the bureau.
"We were informed that NBI agents who are onto the case are being surveilled and are facing grave threats. We commend both the PNP and the NBI for their efforts in unmasking the perpetrators and mastermind in the brutal killing of Mr. Pepino," he said.
Egco said the PTFoMS is in close contact with the victim's family and colleagues in the media.
"We cannot be cowed by anyone or anything into abandoning this probe. As I have said before, we will follow where the evidence leads us," he said.
According to local media reports, three NBI agents experienced serious threats separately following the investigation of Pepino's murder.
NBI Special Investigator 3 (SI 3) Nicanor Ernesto Tagle reported that on June 1, while he was jogging around in his neighborhood, unidentified persons on board a motorcycle (riding in tandem) followed him and pulled a gun on him. Tagle showed to media the video footage of the attempt on his life that was captured on CCTV.
On the other hand, NBI spokesperson (SI 3) Maria Contessa DC Lastimoso and team leader (SI 3) Ido Salvador Trasmonte were both subjected to surveillance by unknown people who took photos of their houses and vehicles.
"The NBI is making great strides in solving the case. Rex Cornelio was killed to silence him. The PTFoMS will not stop in finding out the truth and putting behind bars those responsible for this gruesome act," said Egco.
Egco said he will formally relay these pieces of information and updates to President Rodrigo Duterte, PTFoMS chair and Justice Secretary Menardo Guevarra, and Co-chair Secretary Martin Andanar of the Presidential Communications Operations Office. The NBI is an agency under the Department of Justice.
He likewise reiterated his warning to local officials not to obstruct the official inquiry into the murder of Pepino.
"We have already alerted the DOJ and the PNP about this to ensure the safety of our NBI agents handling the case," he said.
Meanwhile, intelligence reports indicated that some former rebels and unscrupulous active and former uniformed personnel have connived to form an army of sorts for a powerful local politician, which is reminiscent of the period prior to the infamous Ampatuan Massacre in 2009.
"We cannot afford a repeat of the Ampatuan massacre, the PNP and the Armed Forces of the Philippines should look into such reports and nip it in the bud, so to speak," Egco said.
Pepino was a veteran commentator and known critic of local politicians. He hosted "Pokpokin mo Baby" that aired over DYMD Energy FM 93.7. He was killed execution-style after being shot five times at point-blank right in front of his wife on May 5, 2020.
The PTFoMS shall continue to monitor and inform the public on the case. (PR)