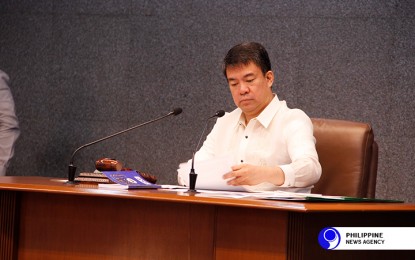 MANILA – State prosecutors rescheduled indefinitely the preliminary investigation originally set on Thursday of the case filed against Senator Aquilino "Koko" Pimentel III over his alleged violation of enhanced community quarantine (ECQ) protocols.
Speaking to newsmen on Tuesday, Prosecutor General Benedicto Malcontento said they had ordered the complainant in the case, lawyer Rico Quicho, to comply with procedural requirements, such as submission of original complaints and attachments.
"If he will not comply, then (the case is) submitted for decision," Malcontento said.
He added that the order was mailed to Quicho last week and was given 10 days to comply.
In April, Quicho filed a complaint against Pimentel for alleged violation of Republic Act 11332 or the Mandatory Reporting of Notifiable Diseases and Health Events of Public Health Concern Act which was signed into law last year.
Quicho has been asked to appear before state prosecutors within five days from the lifting of the ECQ to file a hard copy of his complaint.
In March, the Makati Medical Center said Pimentel breached its infection and containment protocols when he went to the hospital with his wife who was to give birth through cesarean section.
The hospital said Pimentel's visit "unduly exposed healthcare workers to possible infection" after it was found out that he tested positive for Covid-19. (PNA)