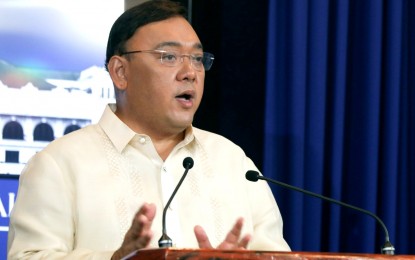 MANILA – Malacañang on Wednesday backed the passage of an economic stimulus plan that aims to overcome the effects of the coronavirus disease 2019 (Covid-19), so long as the government can afford to fund it.
Presidential Spokesperson Harry Roque agreed with the stance of Finance Secretary Carlos Dominguez III that the cost of the stimulus package should only be at PHP140 billion.
"Malacañang now wants a stimulus package that we can actually fund and that will not require too much borrowing," Roque said in an interview with ABS-CBN News Channel.
Dominguez earlier cautioned lawmakers against the approval of measures that cannot be financed and only increase the budget gap beyond the acceptable level.
He made the warning as he noted that several stimulus measures filed in Congress contain provisions that are "fiscally unsustainable."
These stimulus bills include the PHP1.3-trillion Accelerated Recovery and Investment Stimulus for the Economy of the Philippines (ARISE) and the PHP1.5-trillion Covid-19 Unemployment Reduction and Economic Stimulus (CURES).
Roque said the economic stimulus package that would be passed by Congress should be fundable.
He, nevertheless, noted that senators and congressmen are holding talks to come up with an acceptable stimulus plan for the country's economic recovery from the Covid-19 pandemic.
"There's a lot of negotiations ongoing between the Senate and the House," Roque said. "I think there is work close to a compromise."
The proposed ARISE Act allots PHP1.3 trillion for programs that would jumpstart the economy that was hit by the pandemic.
Lawmakers are also pushing for the passage of the proposed CURES that allocates funds for the implementation of key infrastructure projects in the health, education, agriculture, and local roads sectors.
Expressing reservations over legislators' economic stimulus bills, Dominguez said the economic team's proposed amounts, reaching a maximum of PHP160 billion as stimulus fund for the Covid-19 response, are sufficient. (PNA)