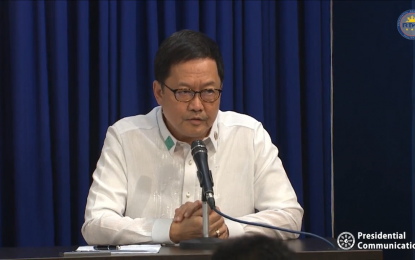 MANILA – The Department of Justice (DOJ) on Wednesday said it has weighed all concerns raised by both critics and proponents in its review of the proposed Anti-Terrorism Act of 2020 which is now awaiting the signature of President Rodrigo Duterte.
"To the extent possible, we have considered the operational needs of the government in dealing with terrorism as well as our international commitments, without losing sight of the legal and constitutional parameters within which all state actions should be circumscribed," Justice Secretary Menardo Guevarra said in a message to reporters.
He added that the DOJ has scrutinized the bill while "always keeping in mind for whom and against whom the anti-terror bill was crafted."
Malacañang has assured critics and detractors that the measure will have safeguards against human rights abuses. Law enforcement authorities that will abuse the proposed law could face imprisonment of up to 10 years.
Presidential Spokesperson Harry Roque has assured that the President will thoroughly review the anti-terrorism bill to ensure that it complies with the 1987 Constitution.
Under the bill, persons who shall threaten to commit terrorism, and those who will propose any terroristic acts or incite others to commit terrorism shall suffer imprisonment of 12 years.
Suspected persons can be detained for 14 days without a warrant of arrest with an allowable 10-day extension.
A 60-day surveillance on suspected terrorists can also be conducted by the police or the military, with an allowable 30-day extension.
Videoconferencing for the accused and witnesses will also be allowed under the measure.
To allay fears of abuse, the Commission on Human Rights will be notified in case of the detention of a suspected terrorist.
Opposition members and progressive groups condemned the passage of the measure in Congress, describing it as an attack on freedom of speech or an avenue for red-tagging. (PNA)