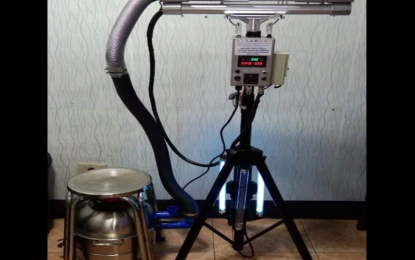 MANILA – As the world is racing against time to find the best drug to treat the coronavirus disease 2019 (Covid-19), a Filipino inventor, has asserted to have developed a machine that can kill airborne virus and even novel coronavirus which is primarily transmitted through respiratory droplets and contact routes.
Jun de Jesus, the enterprising Filipino inventor, calls his invention Vicure Machine.
"It is designed to fight airborne virus and other bacteria, particularly Covid-19," he said in an exclusive interview.
De Jesus said he started developing the machine in February this year as his "humble contribution" to fight the Covid-19 pandemic.
"The Vicure invention is a combination of new technology and old traditional Filipino medicine using soluble steam which has been proven to be effective as a way to prevent the virus from entering our respiratory system," he said.
"The local and traditional way of ridding the body of virus is called 'Suob' (covering the whole body, including the head with a blanket), get a pail of hot water mixed with one kilo of salt as this will increase our immune system. Through this process the virus and other bacteria are neutralized," he said.
The machine, he said, can be used to disinfect hospitals, offices, homes, restaurants, and other areas.
"During the disinfection, these areas must be cleared of people and wait for one hour before they occupy again," he said. "Those who undergo disinfectant procedure must wear clothes or masks and set the machine on automatic switch and presto, the virus are neutralized within a few minutes."
De Jesus thanked the Filipino Inventors' Society and the Valenzuela Inventors Procedure Society, Inc. for their all-out support to his invention.
De Jesus said he already sent a letter to formally inform Valenzuela City Mayor Rex Gatchalian about his newly-developed Vicure Machine. (PNA)