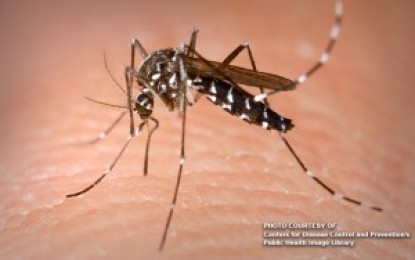 MANILA -- The Department of Health (DOH) on Wednesday reported a 46 percent decrease in the number of dengue cases recorded from January to May compared to the same period last year.
"Based on our surveillance report, from January 1 to May 30, 2020 accumulative number of 50,169 cases were reported as compared to the same time period of last year, 92,880. If we'll compare 2019 to 2020, we have a 46 percent lower number of cases this year," National Dengue Prevention and Control Program Manager Norielyn Evangelista said in a virtual press conference.
DOH Health Promotion and Communication Service Director Faith Alberto said the downtrend of cases could be attributed to vector management, increased awareness, and community participation.
"Ang pagbaba ng cases ay dahil sa increased awareness ng mga tao tungkol sa (The decline in the number of cases is due to people's increased awareness about) Dengue, they already know how to prevent this one. They're already using protective measures so we have decrease in cases, including community activities like cleaning the breeding places of mosquitoes," Alberto added.
Evangelista urged the public to continue observing the 4S strategy in fighting dengue. This includes self-protection; search and destroy mosquito breeding places; seek early consultation; and support fogging or spraying only in hotspot areas where an increase in cases is registered for two consecutive weeks to prevent an impending outbreak.
"Nandiyan din po ang 4 o'clock habit kung saan hinihikayat ang komunidad na maghanap ng mga lalagyan ng tubig kung saan maaaring pamugaran ng lamok at sirain at itaob (Another strategy is the 4 o'clock habit which encourages the community to search and destroy mosquitoes' breeding places)," she said.
Since early detection is key in fighting Dengue, Evangelista advised the public to seek consultation when they experience headaches, body aches, and pains, rashes, diarrhea, retro-orbital pain, anorexia, nausea and bleeding of gums and nose.
She also advised those who don't want to go to the hospitals for consultation in the fear of contracting coronavirus disease 2019 (Covid-19) to seek professional help through telemedicine.
"We also have Dengue NS1 available in our rural health units, rural health centers close to our homes, there's an issuance for that in 2016," she added.
Dengue NS1 is a rapid diagnostic test kit used in detecting the dengue virus in the blood.
To strengthen its fight against dengue, the DOH has started the establishment of Dengue Centers of Excellence in level 3 government hospitals.
"These hospitals have the most number of dengue cases and the absorptive capacity of hospitals... no problem with manpower because level three hospitals are teaching-training hospitals complete with doctors and nurses," Evangelista said. (PNA)