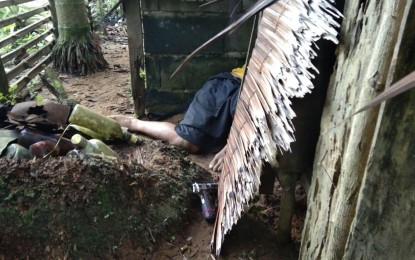 TACLOBAN CITY – A notorious member of the New People's Army (NPA) responsible for various extortion activities in Northern Samar was killed while resisting arrest in an upland village in Palapag town over the weekend.
Lt. Col. Juan Gullem, commander of the Philippine Army's 20th Infantry Battalion (IB), said in a phone interview Monday that Zaldy Meraya alias "Podyot", finance officer of the NPA in the province, was killed in a brief firefight in remote Bagacay village, Palapag town.
"The government troops were about to serve a warrant of arrest issued by Judge Decoroso Turla dated May 11, 2020 for multiple attempted murder, when he fired his gun, which triggered a brief armed engagement," Gullem told the Philippine News Agency.
The operation was an offshoot of the encounter between the government troops and the communist terrorist group in the same village on June 14, which led to the discovery of the NPA lair large enough to accommodate about 50 fighters with 21 makeshift bunkers, four posts, and toilets.
The operation was conducted after soldiers received information from residents about the rebel presence in their area.
Combat tracking on Saturday led the soldiers to the safehouse of the notorious NPA fighter, where troops recovered two .45-caliber pistols, a laptop, 12 mobile phones, three flash drives, and subversive documents.
Gullem is optimistic that Meraya's death will lessen, if not totally stop the extortion activities and resource generation of the communist terrorist group in the pacific towns of Northern Samar.
The rebels have been reportedly threatening government contractors and business establishment to be able to raise funds.
Since 2019, the 20th IB has captured eight rebels including Rey Christian Sabado, a former student of the Polytechnic University of the Philippines.
Northern Samar is considered to be the NPA's stronghold in Eastern Visayas due to poor road network, thick forest, high poverty incidence, and low level of education in upland communities.
The NPA, which has been waging a five-decade armed struggle against the government, is listed as a terrorist organization by the United States, the European Union, the United Kingdom, Australia, Canada, New Zealand, and the Philippines. (PNA)