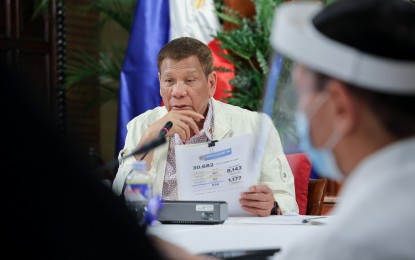 MANILA – It is not the no-value terrorists nor the Abu Sayyaf Group but the local communists that pose the No. 1 threat to national security.
Thus, said President Rodrigo R. Duterte in his Talk to the People during a meeting with members of the Inter-Agency Task Force for the Management of Emerging Infectious Diseases at the Malago Clubhouse in Malacañang on Monday night.
"Actually the number one threat to the country hindi (not) Abu Sayyaf, hindi 'yung mga terorista (not the terrorists) of no value. Itong (These) high-value targets, ito 'yung mga komunista (these are the communists)," Duterte said, adding that it is the reason he has ordered the Armed Forces of the Philippines to be on the offensive.
He lamented how communists attacked government troops securing employees of the Department of Social Welfare and Development (DSWD) who were distributing cash aid to beneficiaries of the government's Social Amelioration Program amid the coronavirus disease 2019 (Covid-19) pandemic.
"The fight against the NPAs has long been there. It started in the 50s hanggang ngayon nandiyan pa (still there until now). It has undermined the national security of the country, he said referring to the New People's Army, the armed wing of the Communist Party of the Philippines (CPP).
Duterte expressed fears that if he does not do his duty as President of the country, like what others did during their time, the government "might just bargain away, place in jeopardy the democratic values that the Filipinos have enjoyed for the longest time".
Taken advantage
Instead of helping solve societal problems, he said the current issues on Covid-19 and terrorism have been taken advantage of by critics and detractors.
"Itong mga (These) forces arrayed against us -- Abu Sayyaf, mga terorista (terrorists) with no ideology, the Communist Party (CPP) with ideology but more pernicious ang effect which could undermine the peace and security of our country not only this administration, but it can transcend to the next generation, giving us no respite," he added. "Maski kaunting pahinga lang na makinga lang man tayo (Even just ample time to breath)."
Duterte, who admitted to his anger towards communists, said there was never a time when he was mayor of Davao City that they mistreated an NPA prisoner in Mindanao.
"We don't even allow the mosquitoes to bite them. May warning kami sa mga alimatok (leech) na huwag galawin ang mga NPA na bihag kasi baka tayo ang pagbintangan (not to hurt NPA captives because we might get the blame)," he added.
He also expressed disgust that communists talk so much about Geneva Convention rights when the situation is in their favor and invokes the same when in the losing end for the protection that the law gives upon everybody.
"That's the riddle that I cannot understand sa iyo (with you). Tutal (in fact) if you fight for as a matter of principle, panindigan mo (stand by it and admit) 'Oo, pinatay namin kasi kalaban eh'," he said, adding that it is rather acceptable to him.
Duterte went on to tell communists not to fool him when their comrades drew a blade across the neck of a captured policeman who was escorting government workers distributing relief assistance in Negros Province last year.
"Pero kung sabihin mo na prisoner na, tapos luglugin mo ng Gillette (blade) pati 'yung pulis. Nakita ko 'yung ano (wound) eh. Huwag ninyo akong bolahin. Nakita ko talaga 'yung sugat dito sa leeg. 'Yun ang kasalanan nu'n, nag-escort ng mga tao sa gobyerno para sa tulong. Mahirap na ang buhay noon eh," he added.
He appealed to communists not to hijack the distribution of the second tranche of Covid-19 assistance.
"This time ipatikim mo sa tao 'yung kanila talaga (let them have what is truly theirs). Iyong una kinuha ninyo eh (You took away from them the first tranche of relief assistance)," he said.
Revolutionary 'tax'
Duterte also warned of having to take more drastic actions like looking into their bank accounts relative to communists' extortion activities from private companies with operations in Mindanao.
"All operating private entities, corporations in Mindanao contributed money to you. Alam namin na hindi 'yan transaction doon na magbigay ng pera doon sa bukid tapos tanggapin ninyo (We know that those are not transactions made in the far-flung areas of Mindanao and you just accept them)," he said, adding that money is deposited in Manila to the bank accounts of the National Democratic Front (NDF), under fictitious names.
The CPP-NPA is listed as a terrorist organization by the United States, European Union, the United Kingdom, Australia, Canada, New Zealand, and the Philippines. (PNA)