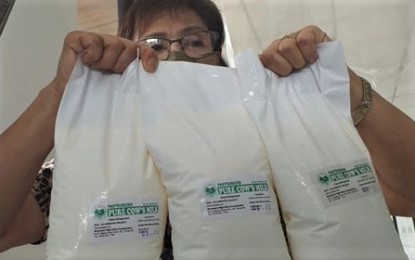 BAGUIO CITY – A total of 59 cows from Australia starts the road to making the Department of Agriculture-Cordillera Administrative Region (DA-CAR) owned a dairy farm in Barangay Dontogan here as the milk capital of the Cordilleras.
A new breed of cows from Australia has allowed the government-owned farm to increase the production from only eight liters a day to 19 liters, said Luis Lang-oy, chief of the Baguio Animal Breeding and Research Center (BABRC) on Wednesday.
The Holstein Friesian stock is a much bigger and heavier cow breed compared to the Philippine island bred Sawihal cattle that the BABRC once used as a dairy product source.
The 50 heads arrived last March of which 30 have already given birth to calves, the first batch of a new stock that is a crossbreed with a Brazilian stock called Girolando, the official said.
Lang-oy said the Holstein Friesian breed could produce a maximum of 36 liters of milk daily, a production they hope to achieve once the new stock has adopted to Baguio's weather.
"That could be 1,800 liters a day from the 950 liters a day production from the 4 a.m. and 4 p.m. daily milking activity," he said.
He said they were supposed to get 100 heads but they opted to cut it into half since a cow needs one hectare to roam and feed.
Based on the official record, the BABRC has a total of 94 hectares of which 60 percent is forested, eight hectares of which have been given to the city government under a usufructuary agreement, while some 60 hectares have been applied for a certificate of ancestral land title by an Ibaloy family.
"Actually, we only have some 15-20 hectares for pastureland, and ideally a cow needs one hectare," said Raponcel Saguilot, a BABRC veterinarian.
He said to maximize the milk-producing capability of the cows, they feed the animal with corn silage.
Aside from being used as a dairy farm, a portion of the BABRC is used to produce seeds and seedlings for Baguio's urban gardens where eggplants, lettuce, pechay, and beans are produced.
The BABRC also produces its own vermicompost utilizing the African nightcrawler worm, cow dung, and other biodegradable materials that is used in producing the seedlings which they give to Baguio residents for their "survival garden".
They also conduct training on how to grow these vegetables that is very much a need especially during the lockdown caused by the coronavirus disease 2019 (Covid-19) pandemic, Lang-oy said.
MP town's dairy dev't project from DA
The DA's "dairy development project" had also reached the town of Sadanga in Mountain Province where PHP6.9 million worth of support for integrated farming on legume, swine, cattle, and poultry production with heirloom rice in the barangays.
DA Secretary William Dar in his visit to the city last June 19 turned over the certificate of release to Mayor Gabino Ganggangan for the municipality's project under DA's Special Area for Agricultural Development (SAAD) program.
Around 50 calves of the Sawihal breed arrived Wednesday at the Dairy farm en route to Sadanga.
SAAD is part of the overall thrust of President Rodrigo Duterte to increase food production and reduce poverty in the Philippines especially in the 30 priority poor towns identified by the Philippine Statistics Authority and the whole of nation approach to End Local Communist Armed Conflict.
For Cordillera, SAAD projects are set for implementation in 163 covered barangays in 25 municipalities in Apayao, Kalinga, and Mountain Province. (PNA)