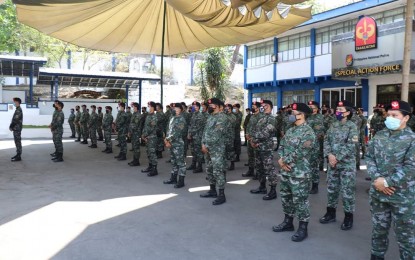 MANILA – The Joint Task Force Covid Shield (JTF CV Shield) on Thursday said Special Action Force (SAF) commandos of the Philippine National Police (PNP) will be deployed to Cebu City to assist in the implementation of the enhanced community quarantine (ECQ) amid the rising cases of coronavirus disease 2019 (Covid-19).
Lt. Gen. Guillermo Eleazar, JTF CV Shield commander, said as approved by PNP chief Gen. Archie Gamboa, two companies of the elite force composed of 150 police personnel will be deployed to Cebu City to prevent non-essential movement of residents and ensure that they are wearing face masks when going out for essential tasks such as buying food and medicines.
"Mobility assets of SAF will also be deployed in Cebu City include Multi-Purpose Armored Vehicles similar to what we used in the implementation of ECQ in Metro Manila. We have already coordinated with the Philippine Coast Guard and the Armed Forces of the Philippines for the deployment of SAF personnel and their mobility assets," he said in a statement.
Last week, President Rodrigo Roa Duterte reverted Cebu City to ECQ over alarming cases of Covid-19 infections and deaths.
The fatalities include four policemen from Cebu.
During a visit in Cebu City on Wednesday, officials of the Inter-Agency Task Force for the Management of Emerging Infectious Diseases (IATF-MEID) and National Task Force Against Covid-19 observed that residents are not strictly following the quarantine rules as they saw people going out of their homes not wearing face masks and not observing safe physical distancing.
To strictly implement ECQ rules, Interior Secretary Eduardo Año said he would work for the deployment of more policemen and soldiers in Cebu City in the soonest possible time.
The deployment of SAF commandoes during the ECQ in Metro Manila which started in late April resulted in a significant decline in the number of quarantine violators.
Aside from SAF troops, soldiers were also deployed in the region and its nearby areas.
Eleazar said while soldiers were already deployed in Cebu City and nearby areas, the AFP's Central Command (CentCom) under Lt. Gen. Roberto Ancan has committed more personnel and assistance to enforce ECQ in Cebu City.
"The CentCom is also using their air assets over Cebu City to check on the observance of physical distancing," said Eleazar.
Maj. Gen. Amando Clifton Empiso, SAF director, expressed confidence that they would also succeed in helping enforce the ECQ in Cebu City.
"I have full trust and confidence in my men in accomplishing the tasks given to them. This is our way of helping the people of Cebu City and nearby areas in their fight against Covid-19. And this is a way of showing the people of Cebu that we are with them in winning this battle," Empiso said.
To facilitate the coordination between police ground personnel, Eleazar said they will also be sending three senior officers from the Directorate for Integrated Police Operations-Visayas and Directorate for Operations. (PNA)