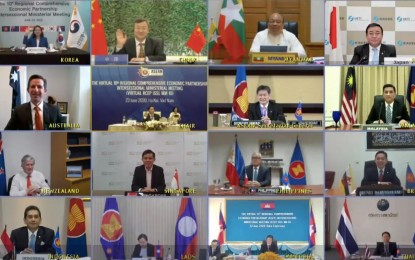 MANILA – Trade ministers of Regional Comprehensive Economic Partnership (RCEP) participating countries have reaffirmed their commitment to conclude the trade deal among Asean and its free trade agreement (FTA) partners –Australia, New Zealand, China, South Korea, and Japan.
During the 10th RCEP Intersessional Ministerial Meeting via a video conference Tuesday, Department of Trade and Industry (DTI) Secretary Ramon Lopez said the trade agreement will play a vital role in economic recovery as countries suffered from the coronavirus disease 2019 (Covid-19) pandemic.
"Together, let us send a strong signal that we continue to deepen our economic partnership despite the challenges and uncertainties in the global trade environment. RCEP remains crucial in restoring business confidence and maintaining a positive outlook in the region," Lopez said.
RCEP negotiations started in 2012.
During the Philippines' hosting of Asean Summit in 2017, participating countries targeted concluding FTA.
However, India, which was part of the trade deal, has been reportedly dragging the negotiations as it was not ready to commit at the level of tariff lines to be liberalized.
In the third RCEP Summit last year, Indian Prime Minister Narendra Modi backed out from the FTA.
RCEP countries remain open if India wants to return to RCEP.
India's return would also mean it will have a free trade deal with China.
India and China currently have a rising border tension.
Early this week, Indian officials put on hold about USD600 million business deals with Chinese firms amid the border clash with China. (PNA)