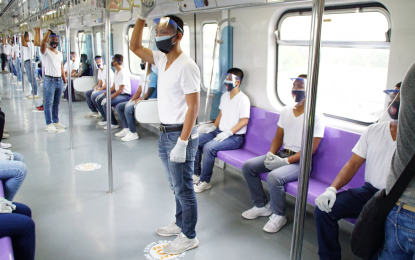 MANILA – A total of 2,799,025 passengers have so far been transported by the four rail services in Metro Manila since they resumed operation during the general community quarantine (GCQ) in June, according to the Department of Transportation (DOTr).
According to its Facebook post on Thursday, the DOTr's total was based on the daily ridership of the Light Rail Transit Line 1 (LRT-1), LRT-2, Metro Rail Transit Line 3 (MRT-3) and the Philippine National Railways (PNR) from June 1 to 21.
"All four rail lines of the DOTr resumed operations, under a partial, gradual and calibrated approach - with limited capacity and with stringent social distancing and sanitary measures in place," the DOTr said.
The rail line with the highest number of passengers was the LRT-1 at 1,397,546; followed by the MRT-3 at 822,928; LRT-2 at 398,212, and the PNR at 180,339.
In a message, Jacqueline Gorospe, communications head of the Light Rail Manila Corporation, operator of the LRT-1, said that before the onset of the coronavirus disease 2019 (Covid-19), the average daily ridership of the rail service was around 500,000.
"Right now, definitely lower ridership. Also, in compliance with the DOTr cap on passengers," Gorospe said.
For June, the average daily ridership of the LRT-1 is 66,550, which is a decrease of 87.69 percent from 500,000.
Meanwhile, the MRT-3 in a message said that its average daily passengers for 2019 were 280,000 to 300,000.
With a current daily average ridership of 39,187, the MRT-3 had a decrease in ridership of about 77.81 to 86 percent.
To mitigate the large reduction in passenger capacity of the rail services, the DOTr has also launched bus augmentation services that would ply the same routes as three Metro Manila rail lines since the beginning of June.
These bus augmentation services include the partial activation of the EDSA Carousel route for the MRT-3, the Cubao-Antipolo city bus route for the LRT-2, and the Monumento-EDSA Taft route for the LRT-1. (PNA)