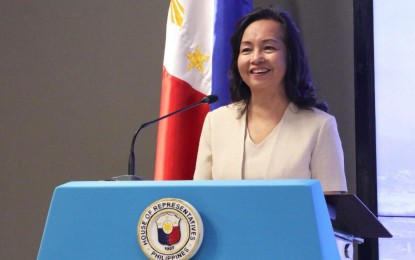 MANILA – Former president Gloria Macapagal-Arroyo on Thursday expressed confidence that President Rodrigo Duterte would take the appropriate measures to combat the coronavirus disease (Covid-19) and its disruptive effects on the economy.
Arroyo made the statement during a virtual meeting at the House Committee on Economic Affairs as she urged the government to shift its focus now on addressing the economic consequences of the pandemic after the imposition of strict quarantine restrictions.
"President Duterte has demonstrated the willingness to take swift strong action when needed, such as being among the first to ban flights from China during the early days of the pandemic, and the lockdown last March which in some aspects still remains in place today," Arroyo said.
"Thus, if severe consequences result from tipping the balance in favor of the economy, we can be confident the President can take the necessary remedial measures," she said.
Arroyo noted that the economic aftereffect of the Covid-19 pandemic could be comparable to the 2008 global recession.
"That recession originated from the global financial sector. The upcoming recession will have a broader cause, ie, the abrupt reduction in business activity across almost all sectors because large portions of the workforce and consumer base were degraded due to quarantine conditions. In this sense, the starting point for recovery might be broader and deeper," she said.
She said the country's economic response could include monetary and fiscal measures, as well as social safety nets.
She said the focus must be on the financial sector to ensure that the banking system remains sound and the country's medical and health sector.
"I am fully confident in the ability of our economic team to design a solution to suit today's situation," she said.
Arroyo also supported the proposed economic stimulus package of the House of Representatives.
"On the part of Congress, I have great confidence in the work that the committees of Congressman Joey Salceda, Congresswoman Sharon Garin, and Congresswoman Stella Quimbo undertook to help frame a program to address the recession that now faces us. I trust the Senate will also do its part," she added.
Salceda, who co-chairs the economic stimulus and recovery cluster of the House Defeat Covid-19 Committee, has recommended the adoption of the Senate's proposed Bayanihan to Recover as One Act, which is a counterpart bill to the House's Accelerated Recovery and Investments Stimulus for the Economy (ARISE), with certain conditions. (PNA)