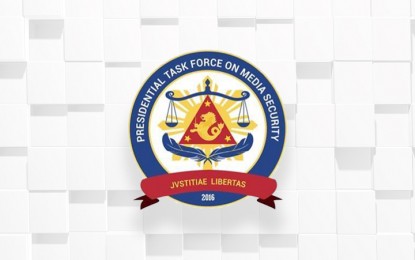 MANILA – Rolly Mahilum, the prime suspect in the brutal murder of Surigao del Sur DXBF Prime Broadcasting Network manager and anchor Christopher Iban "Chris Rapido" Lozada (Lozada) in October 2017, was finally brought to trial.
This welcome development was announced Thursday by the Presidential Task Force on Media Security (PTFoMS), the lead government agency tasked to investigate violence committed against media workers.
Mahilum is facing criminal charges under case nos. 2020-205973 to 74-B for the murder of Lozada and frustrated murder of Honey Faith Toyco, Lozada's common-law-wife and companion at the time of the killing.
The hearing was the first time the accused and the victim had a face-to-face encounter since that fateful night when Lozada and Toyco were waylaid by a group of gunmen on board a gray van. The vehicle was eventually traced by probers to Bislig City hall, where the suspect worked.
Toyco sustained serious injuries but survived. She personally identified Mahilum as the one who allegedly killed the broadcaster after browsing through photos in Lozada's laptop.
In a fit of rage, Toyco grabbed and physically confronted Mahilum outside the city Hall of Justice but was pacified by her police escort.
Mahilum was identified as the family driver and close aide of former Bislig City Mayor Librado Navarro who had filed a libel case against Lozada. The case was said to be connected to the alleged involvement of Navarro in a questionable hydraulic excavator deal.
In full cooperation with the Philippine National Police (PNP), PTFoMS provided Toyco with police escort and security from the Bislig City Police Station led by Capt. Angel G. Cadeliña during the hearing and going to and from her residence.
Judge Ambrosio Moleta of Bislig City Regional Trial Court Branch 46 in Surigao Del Sur presided over the case hearing on June 24. Mahilum previously entered a plea of not guilty during his arraignment on June 4.
However, the hearing was rescheduled on July 16, 2020 after the City Prosecutor Ma. Janice Torrefranca-Millan of the Department of Justice (DOJ), who is handling the case for the People, informed the court that she needed sufficient time to confer with the witness.
"This is another breakthrough in the government's efforts to solve the Lozada murder case. Nothing can and will stop us in bringing to justice these perpetrators of violence against media workers, which we strongly condemn," PTFoMS Co-Chair and Presidential Communications Operations Office (PCOO) Secretary Martin Andanar said.
On March 23, 2020, Surigao del Sur Provincial Police Office arrested Mahilum at P-2, Barangay San Vicente 2, Tagbina in a massive manhunt operation headed by Bislig City Police chief, Lt. Col. Wilson Corpuz and Lt. Col. Gil Tiado Torralba of the Regional Special Operations Group (RSOG).
For his part, PTFoMS Executive Director Undersecretary Jose Joel Sy Egco expressed relief that this trial will finally bring justice to Lozada's family and friends.
"We commend the PNP for doing a great job in apprehending the suspect. We are very confident those involved will get what is due them. This was not a work of just one man and we hope to get the others also," Egco said.
Despite the coronavirus disease 2019 (Covid-19), pandemic, Egco said the Task Force is closely monitoring all cases of violence against media workers in the country.
"In addition, we have requested the Department of Justice for Honey Faith's inclusion in the Witness Protection Program as soon as possible," he said.
The PTFoMS mandate is to protect the life, liberty and security of media workers, a testament to President Rodrigo Duterte government's commitment to press freedom and freedom of expression.
Egco said the Task Force shall continue to monitor and inform the public on the developments of the media killings, cases, and threats against media workers. (PR)