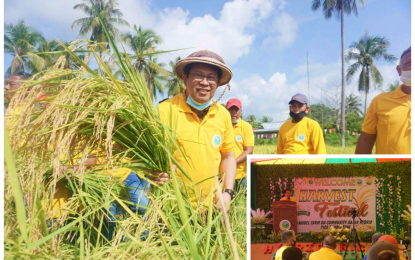 COTABATO CITY – The Ministry of Agriculture, Fisheries, and Agrarian Reform in the Bangsamoro Autonomous Region in Muslim Mindanao (MAFAR-BARMM) spearheaded Sunday the opening of a harvest festival at a 150-hectare model farm in Datu Odin Sinsuat, Maguindanao.
The event, featured in Barangay Sapalan of the town, showcased the importance of community-based technology on hybrid rice production for the model farm.
"This is to accustom farmers in the region on hybrid rice production and its positive economic impact," MAFAR-BARMM minister Dr. Mohammad Yacob said.
While there, the MAFAR personnel also conducted field visitation and crop-cutting activities and provided information dissemination on inbred and hybrid rice production.
"Our demo farm is undeniably the fruit of your [farmers'] coordination, effort and unity especially with the support of our local government unit (LGU)," Yacob said.
He said MAFAR is closely monitoring the strenuous efforts of farmers for rice production, including harvesting and marketing in the region, for ample staple food supply.
Farmers in the village, through a local cooperative, were also recipients of farming equipment that included one set of walk-behind transplanter and one set of rice thresher machines to further improve the rice production in the area.
Alex Ibrahim, head of the Local Farm Technicians–BARMM, said that with the new equipment and hybrid rice seeds, harvests are expected to double or triple in the coming months.
"Before, we can only harvest a maximum of 40 sacks of rice per hectare. Now, we were able to produce almost 115-120 sacks of rice per hectare after we utilized hybrid production," he said of the model farm harvest.
Datu Odin Sinsuat Mayor Cheryl Rose Mary Ann Lu-Sinsuat has expressed joy over the success of the model farm in her municipality.
"I am in full support of the MAFAR-BARMM programs in my town and the rest of the region," she said.
A day earlier, a "MAFARlengke" program presenting bountiful harvests of vegetables, fruits and other farm products, also took center stage at the municipality.
Around 500 farmers and stakeholders in the province's 36 municipalities, together with representatives from the Bureau of Plant Industry, National Irrigation Administration, Municipal and Provincial Agricultural Officers, among others, participated and witnessed the performance of hybrid rice varieties used in the demo farm. (PNA)