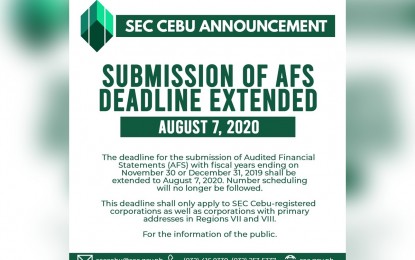 CEBU CITY – The Securities and Exchange Commission–Cebu Extension Office is extending the deadline for the annual filing of audited financial statements (AFS) of corporations from June 30 to August 7, due to the reversion of the city to enhanced community quarantine (ECQ).
Lawyer Alma Marie Dalena, SEC-Cebu officer-in-charge, said in a statement on Monday that the deadline applies to corporations with fiscal years ending on November 30 and December 31, 2019.
Corporations registered in SEC-Cebu as well as those with primary addresses in Central Visayas and/or Eastern Visayas regions are covered by the adjusted deadline, she said.
Dalena said they will no longer follow the number scheduling scheme provided in SEC Memorandum Circular No. 18, series of 2020 in accepting AFS for fiscal year 2019.
"Based on our assessment, there is a need to extend the deadline for the filing of audited financial statements, especially since Cebu City is back under ECQ. The number scheduling scheme was supposed to start on June 29, but we will not be following the said scheme anymore. Corporations under our jurisdiction may apply on or before August 7," she said.
To minimize the number of people coming in and out of the SEC Cebu Extension Office, Dalena advised clients to email their reports or to send them via JRS Express with return pouch.
"Clients who are unable to submit their reports in person may send their documents via JRS Express with return pouch to ensure that the received copy will be sent back to them. They may also send it to [email protected] for email submission, provided that they comply with the guidelines stated in Memorandum Circular No. 10, series of 2020."
The circular stated that the body of the email should contain a statement declaring the authenticity of the submitted documents and a commitment to submit physical versions of the exact same submitted documents to the SEC once the state of public health emergency is lifted.
She said the statement should include the full name, corporate address, email address, and mobile number of the authorized representative making the submission.
The SEC shall set and announce a specific date for submission of the duly notarized hard copies of the documents submitted through electronic mail after the state of public health emergency is lifted.
Tiara Jabutay, SEC-Cebu information officer, told the Philippine New Agency on Monday that corporations that will submit the AFS through email are still required to submit the hard copy to the SEC office at V. Rama Avenue here.
Dalena also said that their office has adjusted to "new normal" work conditions by adjusting their working hours and implementing work from home measures. (PNA)