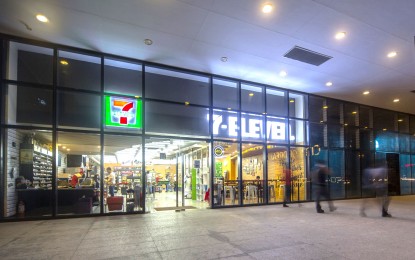 MANILA – Philippine Seven Corp. (PSC), the exclusive licensor of 7-Eleven in the country, has started releasing its PHP711-million pandemic support program (PSP) for its franchisees.
In a statement, the PSC said the program allows 7-Eleven franchisees to borrow money from PSP's credit line at zero interest to continue their operations amid the coronavirus disease (Covid-19) pandemic.
The company began to disburse the fund last June 20.
"We recognized immediately that the country's and the world's battle with Covid-19 would be long and painful, so the first thing we did was (to) request our bankers for an increase in our credit lines. Thankfully, they responded quickly and generously, and our next focus became how to deploy this access to capital strategically during the pandemic. The PSP is one such example," PSC president and chief executive officer Jose Victor Paterno said.
At the end of the first quarter this year, PSC's cash amounted to PHP6.1 billion, while debt reached PHP1.8 billion.
It posted a net income of PHP104 million from 2,916 7-Eleven stores nationwide.
Since the Covid-19 outbreak in the country early this year, 22 percent of its stores were closed in April.
The number of closed stores declined to 11 percent in May as the government began to relax lockdown measures in some areas of the country.
Paterno said many of its stores are currently unprofitable and this situation is expected to last until the end of the year.
"If and when the franchisee's situation improves, he or she commits to paying down the credit line monthly, at zero interest. Should he or she choose to no longer continue as a franchisee, all outstanding balances from the PSP will be forgiven," PSC said.
Meanwhile, Paterno asked landlords of 7-Eleven stores to also look into helping franchisees to continue their operations amid the challenging business environment due to the pandemic.
"Most of our 1,000+ franchisees have to pay rent, and we are doing our part to ensure they survive. We are now asking our landlords to do theirs because if they do not, the franchisee will have to close the store, as will we for our corporate-run stores," he said.
He added PSC initially targets to add 400 stores this year but plans were put on hold as the firm assesses the condition in the near future. (PNA)