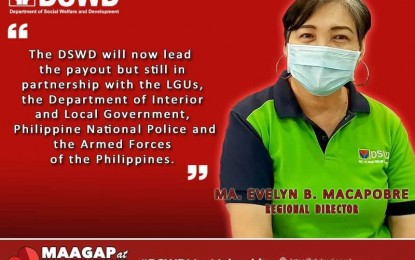 ILOILO CITY – The Department of Social Welfare and Development (DSWD) regional office in Western Visayas (DSWD-6) will begin the release of social amelioration program (SAP) cash aid to an initial 19,534 additional qualified family-beneficiaries this week.
In a press statement Wednesday, DSWD regional director Ma. Evelyn B. Macapobre said the payout will be held in 21 local government units (LGUs) of Western Visayas: three municipalities in Aklan, two in Antique, seven in Capiz, four in Guimaras, and five in Negros Occidental.
"The DSWD will now lead the payout but still in partnership with local government units, the Department of the Interior and Local Government, Philippine National Police and the Armed Forces of the Philippines," she said in the statement.
The names of qualified recipients were listed in the first batch of the clean list from DSWD central office and have passed the Level 3 duplicity check, she said.
Level 3 check means that the recipient has undergone duplicity examinations at the regional and national levels.
Likewise, their names were cross-checked with the list of beneficiaries in the assistance provided by the Social Security System (SSS), Department of Labor and Employment (DOLE) and the Department of Agriculture (DA).
A revalidation, meantime, will be conducted for those who were not on the list.
"The result of the revalidation will be still be subjected to Level 3 checking. If found eligible, they will be included in the next payroll, otherwise, they will be deemed disqualified," she said in a follow-up interview.
The payout for additional qualified families will be done once another clean list is ready.
A total of 163,617 family-beneficiaries were submitted to DSWD to be included in the program. Their names, however, have to go through a duplicity check to ensure that they have not availed of assistance from other government agencies.
The initial recipients will receive PHP6,000 each because they do not live in areas where the release of the second tranche was granted.
In Western Visayas, only the province and city of Iloilo and Bacolod City were included in the second tranche.
The DSWD is still waiting for the clean list of family-beneficiaries for the second tranche.
During the first tranche, the department has released PHP8.29 billion to 1,454,190 family beneficiaries in Western Visayas. (PNA)