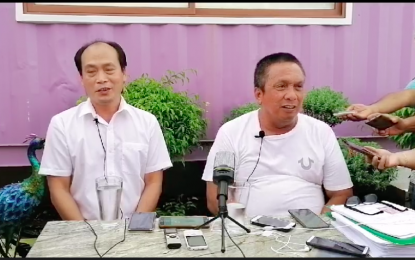 DUMAGUETE CITY – Negros Oriental Gov. Roel Degamo on Wednesday bared a plot to kill him and his wife following the arrest of three suspects early this week in Malay, Aklan.
In a press conference in Pamplona, Degamo said an attempt on their lives was foiled after the three suspects were intercepted and arrested on board a Nissan X-Trail (XSL 752) at the Caticlan Ferry Port on Monday night.
He said on Sunday evening, he received a text message from a friend, alerting him and his wife against persons on board a sport utility vehicle carrying firearms and ammunition who were out to kill them.
He said there was a complete description of the make of the car and its plate number.
"Niadtong puntoha ako dayon gi alarma ang atong mga higala, atong mga connections didto sa Manila (At that point, I immediately alerted my friends and connections in Manila)," he added.
The police in Western Visayas reported later that they spotted a vehicle in Iloilo that matched the description given by the informant but, as it turned out, the passengers included a senior citizen and two siblings, Degamo said.
The following night, a friend contacted Degamo and reported that the SUV was intercepted at 9 p.m. at the Caticlan Jetty Port in Malay, Aklan.
A police report identified the suspects as Marvin Halaman Miranda, 31, an Army Reservist and resident of Villareal, Bayawan City, Negros Oriental; Mario Morales Puyal, 62, a retired Army soldier and resident of Sitio Usawang, Barangay Ususan in Taguig City; and Adolfo Agbayani Obiacoro, 34, a tricycle driver of Imus, Cavite, and who claimed to be temporarily residing in Bayawan City.
Confiscated from the suspects were a number of assorted short and long firearms, several rounds of ammunition, and other personal items and documents.
"According to them, they (were) there to eliminate us mao nga na-alarma gyud ko (that is why I became alarmed)," he said.
Degamo thanked officials of the Philippine National Police and the Armed Forces of the Philippines (AFP) for launching operations for the arrest of the suspects.
Asked for the possible reason for the attempt on his life and that of his wife, he said he believes it had something to do with the decision of the Supreme Court that he could still run as governor in the 2020 elections.
Referring to his political detractors while not mentioning names, Degamo said because the opposition cannot defeat him, "the only way to do it is to eliminate me and my wife".
"Karong sunod election, ako gyud ipa abot ninyo nga ang akong daganan ang pagka gobernador sa lalawigan sa negros oriental (in the next elections, I am telling you that I am running again as governor of the province of Negros Oriental)," he said. (PNA)