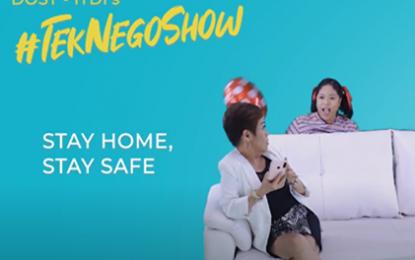 MANILA -- Technologies relevant to the pandemic, such as ready-to-eat food, hygiene products, among others, will be showcased in the Department of Science and Technology's (DOST) upcoming business type talk show, "TekNegoShow".
Director Anabelle Briones, of the DOST-Industrial Technology Development Institute (ITDI), said the pilot episode would air tentatively in the last week of August.
An estimate of PHP1.5 million to PHP2 million would be spent for 13 episodes that would run for 30 minutes each, she added.
"(What sets this apart from other business shows) is that it would gather technology experts, guests from the industry or technology adopter, and guests from the financial or economic side. Insights would be given from technology perspective, experiences of the adopters, as well as view from business and economic perspective," Briones said in a phone interview with the Philippine News Agency on Wednesday

"(Our goal is to) heighten engagement with stakeholders, and increase likelihood of technology transfer of technology adoption in the production sector," she added.
The "TekNegoShow" can be viewed on the ITDI's Facebook page and on YouTube.
Viewers would have the chance to send questions or interact with the moderator, it added. (PNA)