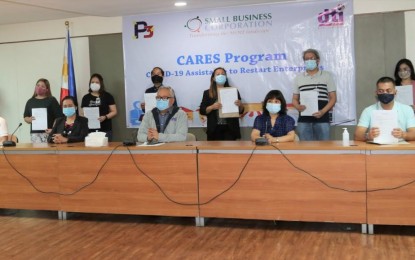 MANILA – The Department of Trade and Industry (DTI) released Friday the first batch of loans under the Covid-19 Assistance to Restart Enterprises (CARES) program to micro and small enterprises.
Fifteen borrowers from the National Capital Region and 26 borrowers from the Cordillera Administrative Region received the first batch of CARES program loans.
DTI Secretary Ramon Lopez said a total of PHP100 million loans were approved by the Small Business (SB) Corp. for 1,175 applicants.
He said 1,153 applications with aggregate loans amounting to PHP97.9 million are pending approval.
Earlier, Lopez said SB Corp., the financing arm of DTI that leads the CARES program, targets to complete the disbursement of the PHP1-billion fund earmarked for this program by the end of this month.
SB Corp. received a total of 22,932 applications for the CARES program loan that amounted to over PHP2 billion worth of borrowings, he said.
"For extra funds needed, we will use our other P3 (Pondo sa Pagbabago at Pag-Asenso) portfolio fund which is about PHP3.5 billion," he added.
Lopez said that with the arrangement with the Department of Finance, SB Corp. may also access from the Land Bank of the Philippines and Development Bank of the Philippines to augment the needed fund.
The CARES program provides interest-free loans to micro-businesses with assets not exceeding PHP3 million, and small businesses with assets not exceeding PHP15 million.
The SB Corp. can lend from PHP10,000 to PHP200,000 for micro-enterprises, and up to PHP500,000 for small enterprises payable for 18 to 30 months.
This is DTI's response to help small-scale businesses survive amid the Covid-19 pandemic as well as to save jobs. (PNA)