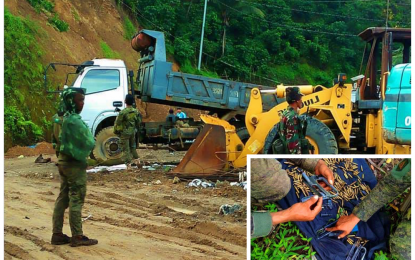 CAMP SIONGCO, Maguindanao – Government forces securing road construction projects in a remote village in Kalamansig, Sultan Kudarat foiled an attempt by communist rebels to burn heavy equipment on Friday.
Lt. Col. Allen Van Estrera, commander of the Army's 37th Infantry Battalion (37IB), said about 30 New People's Army (NPA) guerillas showed up at a government road concreting project in upland Barangay Hinalaan and told civilian workers to back off for they will set fire to the heavy equipment.
Soldiers tasked to secure the project quickly responded and traded shots with the communist rebels.
The firefight lasted for about 40 minutes and the rebels fled with their wounded companions, leaving behind bullets and gun components.
"Our troops, although outnumbered, foiled the attack and safely secured the construction equipment," Estrera said in a report.
He said a soldier was slightly hurt after sustaining a shrapnel wound, while there could be more wounded among the rebels.
"Government troops, in conducting clearing operations, found traces of blood and several empty ammunition shells of various caliber of rifles and a grenade launcher," Estrera said, adding that the attackers belonged to the NPA West Daguma Front headed by Datu Gawa Gantangan and Glenn Sakudal alias "Dennis" of the Far South Mindanao Region Command.
He said the rebels tried to burn the equipment of the JANMERC Construction Company because the firm ignored the rebels' demand for "protection money."
Military officials said the communist rebels are also disrupting the completion of the road project, which would provide easy access to government services in the geographically isolated communities of the upland barangay that NPA members have been trying to infiltrate.
Brig. Gen. Wilbur Mamawag, the Army's 603rd Infantry Brigade commander, lauded the unrelenting vigilance of the 37IB troops in securing the government highway projects.
"Our security operations are directed toward establishing a psychologically secure environment that allows the implementation of government projects in far-flung barangays that will benefit less-privileged and isolated communities, particularly the indigenous villages," Mamawag said.
Barangay Hinalaan was also the site of an NPA sabotage operation in June last year where eight heavy construction equipment of JANMERC were torched by the rebels.
The CPP-NPA is listed as a terrorist organization by the United States, the European Union, the United Kingdom, Australia, Canada, New Zealand, and the Philippines. (PNA)