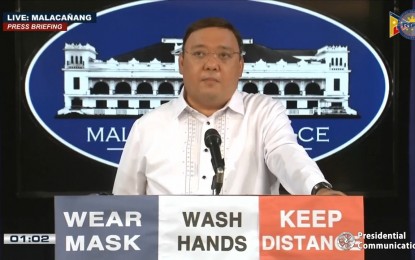 MANILA – Malacañang on Monday allayed rising fears over the newly-signed anti-terrorism law, saying only terrorists and not dissenters, should beware since criticizing the government is not a crime.
Presidential Spokesperson Harry Roque made this remark after National Security Adviser Hermogenes Esperon said critics who claimed that the law would erode human rights could be supporters of terrorists themselves.
"Siguro (Perhaps), I will phrase it differently. Terrorists, beware of the anti-terror law. Iyong mga hindi naman po mga terorista, huwag po kayong mag-alala, sapat-sapat po ang mga safeguards sa batas mismo at sa ating umiiral na rules of court para pangalagaan po ang karapatan ng kalayaan at karapatang mabuhay (Those who are not terrorists, don't worry, there are enough safeguards in the law and the rules of court to protect the right to life and liberty)," he said in a virtual presser.
Roque, a lawyer, said there had to be "clear and present danger" before a person can be arrested and detained for inciting terrorism.
"Kapag sinabi po ng leader ng Abu Sayyaf, pugutan ng ulo ang mga Kristiyano, iyan po ay ehemplo ng inciting to terrorism (When the leader of the Abu Sayyaf Group declares to behead Christians, then that is an example of inciting to terrorism)," he said.
He, however, said that not all remarks are actionable because jurisprudence on free speech should also be applied.
"Hindi naman po lahat ng salita ay actionable, kinakailangan ang nagsasalita ay may kapangyarihan na bigyan ng riyalidad iyong kaniyang sinasabi 'no (Not all remarks are actionable, the person who made the declaration must have the capability to realize his words)," he said.
According to Roque, if the threats were made by an individual with no involvement with any terrorist group, there would be no clear and present danger to deter.
He cited as an example the incident involving a 25-year-old public school teacher who offered a PHP50-million bounty for anyone who would kill President Rodrigo Duterte.
"Na-dismiss po kasi wala pong clear and present danger dahil depende rin po iyon sa kakayahan ng nagsasalita na mapatupad iyong kaniyang mga sinasabi (The case was dismissed because there is no clear and present danger because it would depend on the person's capability to carry out what he declared)," he said.
Echoing Hermogenes' statement, Roque confirmed that the Anti-Terrorism Council (ATC) will begin designating individuals and groups as terrorists in accordance with resolutions issued by the United Nations Security Council (UNSC).
He said left-leaning organizations can only be classified as terrorists if there is enough evidence to prove that they are members of terrorist groups.
Enough safeguards
Roque belied anew the statement made by Vice President Leni Robredo that the anti-terrorism law does not have enough safeguards to prevent abuses.
He said legal remedies are available such as the writ of habeas corpus which can be used to secure the release of a person who is being unlawfully detained and writ of amparo which can be used if a person's right to life, liberty and security has been violated or under threat.
"Sapat-sapat po ang remedyo, nandiyan na po iyan bagamat may bagong batas, lahat po iyang mga writs na ginawa po ng ating Korte Suprema at nasa ating Saligang Batas ay patuloy pa rin pong magagamit (There are enough remedies. Even if it is a new law, the writs crafted by the Supreme Court and the Constitution can still be used)," he said.
After petitions have been filed questioning the legality of the ani-terrorism law, Roque said the Palace would leave it to the Supreme Court to decide on its constitutionality.
"The general rule po is every law passed by Congress enjoys the very heavy presumption of constitutionality," he said.
Muslim representation
Earlier, Bangsamoro Autonomous Region in Muslim Mindanao (BARMM) leaders expressed concern about the controversial law, saying they were not consulted while the measure was being crafted and they did not have a representation in the ATC.
Roque, however, said that despite a lack of representation, the ATC is required to consult with them.
"Hindi nga lang po (BARMM leaders won't have a) full membership into the Anti-Terrorism Council but they are one of the agencies that the Anti-Terrorism Council is duty bound to consult po," he said.
He also assured Muslim Filipinos that Duterte will not allow the implementation of class legislation against Muslims.
"May dugong Muslim din po ang ating Presidente. Ang lola po niya Tausug. So ina-assure po natin ang ating mga kapatid na Muslim, kasama niyo po sa inyong hanay ang Presidente (The President has Muslim blood. His grandmother is a Tausug. We assure you that the President stands by you)," he said.
Petitions filed
Separate petitions against Republic Act No. 11479 or Anti-Terrorism Act of 2020 were filed by lawyer Howard Calleja who was joined by the De La Salle Brothers Inc. represented by Bro. Armin Luistro; Far Eastern University Institute of Law Dean Melencio Sta. Ana, and Rep. Edcel Lagman before the Supreme Court on Monday.
The petitioners questioned the powers of ATC, and the provisions on the forms of speech and expression, surveillance, and detention.
They also questioned the definition of the crime of terrorism under the law, claiming it as vague and ambiguous; the maximum of 24 days of prolonged detention of a suspect without a judicial warrant or without charging him; the maximum of 90 days technical surveillance and wiretapping of communications; the maximum of six months investigation of a suspect's bank accounts and the freezing of assets; and the authority to designate a person or association as a terrorist without judicial intervention. (With reports from Benjamin Pulta/PNA)