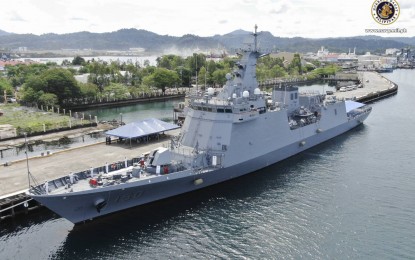 MANILA – The Philippine Navy (PN) said on Tuesday its up-to-date and heavily armed ship, the missile-frigate BRP Jose Rizal (FF-150) will be participating in this year's "Rim of the Pacific" (RIMPAC) exercises.
PN flag-officer-in-command Vice Admiral Giovanni Carlo Bacordo said the BRP Jose Rizal will depart for Hawaii, where the RIMPAC 2020 will be held, by July 29 to 30.
RIMPAC 2020 is from August 17 to 31.
"To date, (only) three Asean countries (will be) participating (and these are) Singapore, Brunei, and the Philippines," Bacordo said.
As of this time, he said only 11 countries will be sending ships to join the biennial maneuvers described as the largest maritime warfare exercise in the world.
In 2018, the PN participated for the first time in RIMPAC deploying strategic sealift vessel BRP Davao Del Sur (LD-602) and offshore patrol vessel BRP Andres Bonifacio (PS-17), an AgustaWestland naval helicopter.
Around 700 sailors and marines joined the exercises, which started June 27 and ended on Aug. 2, 2018. (PNA)