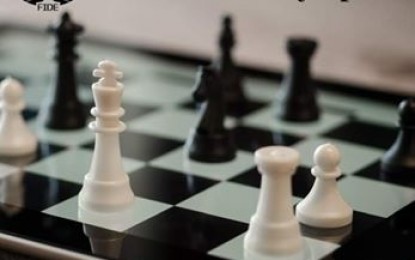 BAGUIO CITY – Six of the country's top woodpushers will be seeking slots in the first-ever FIDE (Federation Internationale des Echecs) Online Chess Olympiad from July 22 to August 30.
Qualifier game starts at 10 a.m. on July 11 as International Master Haridas Pascua goes literally to "war" against the top chess players led by former top Filipino player Mark Paragua.
"Exciting kasi top players po ng Pilipinas ang makakalaro ko (It's exciting since I will be facing the country's top players)," Pascua told the Philippine News Agency (PNA) through a private message on Friday.
"I expect nothing but then I am going to give my best so that I can qualify," said the two-time national champion in the vernacular.
"Prestigious talaga ang Olympiad tournament kaya for sure lahat sila ay prepared and eager na ma-qualify (The Olympiad is really a prestigious tournament so for sure all of them are really prepared and eager to qualify)," he added.
Paragua returns to competition in the Philippines after a stint in the United States.
His return to Philippine competitions saw the sharpness that once defined his game that catapulted him to a rating above the 2600 Elo rating, the best for a Filipino until Wesley So came along and shattered all records.
Paragua is fresh from winning the Battle of Grand Masters (GM), Congressman Pichay Birthday Cup, and is the marked man in the tournament that will have another former top player in Grand Master Joey Antonio.
Antonio at 58 remains sharp and has been one of the more dominant players in online games made possible by the coronavirus disease (Covid-19) pandemic.
Antonio came in as a replacement for GM John Paul Gomez who ceded his slot for Antonio to allow the best players possible for the Olympiad.
The six-man qualifier also includes GMs Rogelio Barcenilla and Darwin Laylo as well as IM (International Master) Paolo Bersamina.
Barcenilla, Laylo, Gomez, Bersamina, Pascua, and top Filipino rated player Julio Catalino Sadorra were supposed to represent the country to the 44th World Chess Olympiad in Moscow that has been canceled due to the pandemic.
Sadorra begged off from qualifiers that the National Chess Federation (NCF) of the Philippines invited Paragua, now the country's best player.
Pascua, who missed the Battle of GMs due to his online teaching, said he will be doing a live stream on YouTube at 10 a.m. in the next two days.
The FIDE Online Olympiad will have two male players and two reserves as well as a minimum of three women players and a minimum of two Under 20. The team will have a maximum of six players.
The NCFP will hold qualifiers for the women's and junior side before the July 13 deadline set by the FIDE. (PNA)