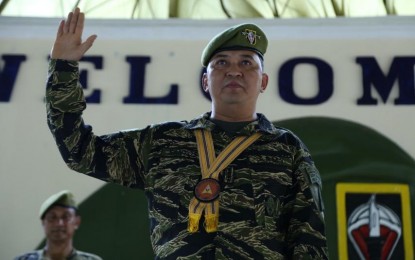 MANILA – Some 10 senior generals are being eyed as the possible successor of Armed Forces of the Philippines (AFP) Chief-of-Staff, Gen. Felimon Santos, Jr., who is set to retire on August 4 after reaching the mandatory retirement age of 56.
Marine Major Gen. Edgard Arevalo, AFP spokesperson, said the Board of Generals has convened and assessed the shortlist of candidates.
"There were about 10 names contained in the list that includes Major Service commanders, Unified Command chiefs, and other three-star generals at the GHQ (General Headquarters in Camp Aguinaldo, Quezon City)," he said in a statement Sunday.
He said the recommendation has been submitted to Malacañang, through the Department of National Defense, on the first week of July.
Santos, a member of the Philippine Military Academy Class of 1986, is the 53rd AFP chief replacing Gen. Noel Clement who retired on January 4.
Arevalo said it is the prerogative of President Rodrigo R. Duterte to extend the term of Santos if he wishes to do so, especially now that the country is in the midst of a pandemic.
The AFP Board of Generals, as a matter of course, needs to convene to submit and assess the best possible candidates as next AFP chief, he added.
"So if the President feels or sees that there is a need for him to extend the term of the current Chief-of-Staff, then it (is) within his prerogative to do so," he added. (PNA)