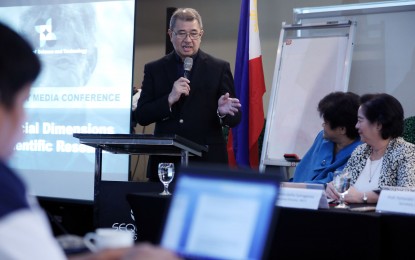 MANILA -- Department of Science and Technology (DOST) Secretary Fortunato dela Peña noted the increasing number of research and development (R&D) proposals the agency has been receiving, with more than 900 proposals sent this year for 2021 funding.
These proposals were sent to the DOST's National Research Council of the Philippines (NRCP), Philippine Council for Health Research and Development (PCHRD), Philippine Council for Industry, Energy, and Emerging Technologies Research and Development (PCIEERD), and the Philippine Council for Agriculture, Aquatic, and Natural Resources (PCAARRD).
"For NRCP, PCIEERD, and PCHRD, the number has increased from 695 in 2019 to 894 in 2020. PCAARRD proposals are not yet all in," dela Peña told the Philippine News Agency in an interview.
Institutions submitting R&D proposals have been increasing as well. "The number increases each year, from 85 in 2016 to 181 this year. Some institutions submit every year, while others are submitting for the first time this year," he said.
The increase in the number of institutions that submit proposals for the first time indicates that more institutions are being capacitated to undertake meaningful R&D, dela Peña said.
Dela Peña said he could attribute the increasing number of R&D proposals to various factors such as the agency's investment in human resource development.
He said from 1,250 bachelors' degree freshmen in DOST scholarship 10 years ago, the number has increased to 10,000 scholarships this year.
He said from 17 Master of Science (MS) and PhD graduates in 2008, the DOST has produced 400 to 500 MS and PhD graduates per year in the last four years.
He also attributed the increase to the DOST's investments in core science and technology facilities such as the Philippine Genome Centers in Diliman, Visayas and Mindanao; the Advanced Manufacturing Center in DOST central office; the Tuklas Lunas Centers; Food Innovation Centers, among others.
Dela Peña also cited the DOST's deliberate investments in R&D in the regions.
He said in 2016, 80 percent of the DOST's R&D funding went to the National Capital Region (NCR), Regions 3 (Central Luzon) and 4-A (Calabarzon), while 20 percent went to other regions.
In 2020, 27 percent went to the NCR, Regions 3 and 4-A, while 73 percent went to the other regions.
"This means that funding to the other regions has increased. In the call for proposals this year that is for implementation for 2021, the number of proposals coming from outside NCR, Regions 3 and 4-A is 32.2 percent. The capacity to do R&D by institutions outside of NCR is increasing," dela Peña said.
An estimated available R&D budget for 2021 is PHP7.2 billion, he said. (PNA)