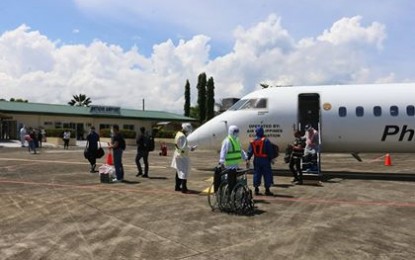 SAN JOSE DE BUENAVISTA, Antique – An ordinance that will ensure the safety of aircraft, passengers and residents at the perimeter vicinity of the only airport in the province here is expected to take effect next month.
San Jose de Buenavista Municipal Mayor Elmer Untaran, in a press conference on Monday, said the Antique Airport Public Safety and Security Ordinance authored by Councilor Nestor Israel was approved by the Sangguniang Bayan (Municipal Council) last July 9 and will take effect 15 days after its publication in a local newspaper.
"The ordinance stipulates prohibited acts such as kite flying within the distance of eight-kilometer radius from the center of the airport," he said.
No laser beam or other bright light shall be directed at an aircraft as it can cause distraction or temporary flash blindness to a pilot during the critical phase of flight such as landing or takeoff.
The ordinance also adopts the Civil Aviation Authority of the Philippines' (CAAP) rules and regulations that prohibit the operation of drones over 400 feet above ground level. These shall stay clear of populated areas and there would be no flying at night unless authorized.
"No burning of materials within 12-kilometer radius from the airport as such activity will lower or cause to lower the visibility in the airport," Untaran also said.
Violations of the prohibitions will be meted with fines or penalties: PHP500 for first offense; PHP1,000 and four hours of community service for second offense; and a fine of PHP2,500 and six-month to one-year imprisonment at the discretion of the court, for the third offense.
Untaran said the ordinance is necessary considering that the airport has just reopened last July 15 after it was temporarily closed starting March 16 during the enhanced community quarantine.
The lone commercial plane operating here, the Philippine Airlines (PAL), flew passengers from the Ninoy Aquino International Airport to the province last July 15 after the Department of the Interior and Local Government (DILG) announced that the locally stranded individuals (LSIs) from Metro Manila were already allowed to travel back to their provinces including Antique. (PNA)