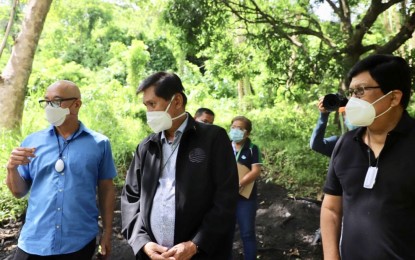 CEBU CITY – The Inter-Agency Task Force for the Management of Emerging Infectious Diseases (IATF-EID) has placed 21 barangays in this capital city with the most number of active coronavirus disease 2019 (Covid-19) cases under "granular lockdown".
A granular lockdown is implemented in a sitio or purok, business enterprise or economy and will continue based on the IATF guidelines under a modified enhanced community quarantine (MECQ) classification.
Department of Environment and Natural Resources (DENR) Secretary Roy Cimatu said despite the downgrading of the risk classification here from enhanced community quarantine (ECQ) to MECQ, Mayor Edgardo Labella will issue an executive order (EO) placing these villages under strict quarantine protocols.
The effectivity of the granular lockdown will depend on the EO of Labella.
Cimatu and other IATF officials met business leaders here on Tuesday to announce that they will still put villages with the most number of Covid-19 cases under granular lockdown to impose more focused interventions.
He said the lockdown will still be supported by the Philippine National Police and the Armed Forces of the Philippines in coordination with barangay officials.
As presented during the meeting with the Cebu City Council and 75 barangay captains in the city, the 21 villages are Lahug, Guadalupe, Capitol Site, Talamban, Kamputhaw, Mabolo, Poblacion Pardo, Tisa, Sambag, Apas, Labangon, Basak Pardo, Cogon Ramos, Punta Princesa, Sambag 2, Quiot, Zapatera, Banilad, Hipodromo, Basak San Nicholas and Cogon Pardo.
As agreed, provisions and other essentials for residents affected by the granular lockdown will be provided by the city government.
"The lockdown at the sitio level will be implemented by the barangay chairman and there should be a barangay lockdown plan," a statement from the IATF said.
Meanwhile, the heads of the swabbing and contact tracing teams supervising barangay isolation centers presented their status report to the IATF for the first time on Tuesday since they were organized to help the national and local government officials in addressing the Covid-19 crisis in the city.
Cimatu, designated by President Rodrigo Duterte to oversee the Covid-19 response in this capital city, pointed out that in the fight against the coronavirus, they need to find or locate where the virus is, impose responsive interventions and measures such as lockdown and ensure the people's cooperation with the existing protocols and guidelines. (PNA)