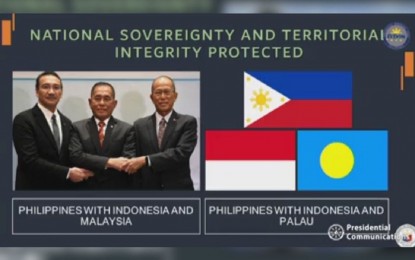 MANILA – The Philippines has entered into security agreements with neighboring states in the Southeast Asian region to protect its shared maritime borders.
"We strengthened our maritime security cooperation with neighboring nations such as Indonesia and Malaysia," Defense Secretary Delfin Lorenzana, head of the Security, Justice, Peace Cluster said in a pre-SONA forum aired at PTV-4 Wednesday.
He was referring to the trilateral maritime patrols between the Philippines, Indonesia and Malaysia which was launched in June 2017 and aimed at securing "areas of common concern" to the three countries.
It is aimed at countering the movements of violent extremists and terrorists.
Also, to protect the biodiversity in its waters, Lorenzana said the country has launched a number of marine explorations, mostly centered at the Philippine Rise.
"In the Philippine Rise, the government-funded an All-Filipino Marine Science Research Expedition to coordinate marine science research initiatives and related activities," he added.
In line with this, consultations were also held with the National Coast Watch Council and the National Task Force on the West Philippine Sea to update the country's national marine policy.
The country also entered into an agreement with other nations to help manage and safeguard their marine resources in their respective exclusive economic zones.
"We have also agreed with Indonesia and Palau to advance common interests in managing and preserving marine resources in the exclusive economic zone of the three countries," Lorenzana said. (PNA)