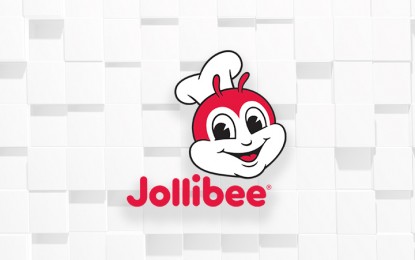 MANILA – Homegrown food giant Jollibee Foods Corporation (JFC) expects sales recovery with the expansion of dine-in capacity of restaurants amid the coronavirus disease 2019 (Covid-19), as it prepares to implement changes in its global business structure.
In a statement Friday, JFC chief executive officer Ernesto Tanmantiong underscored the need for the company to adapt to changing consumer habits as the pandemic has brought times of unprecedented change, while its growth strategies, vision, mission, and values remain the same.
"We do recognize that the Covid-19 pandemic has brought shifts and lasting changes to consumer behavior, such as the greater use of digital, work from home, and more reliance on delivery and takeout. That is why JFC has embarked on a Business Transformation to address the changing economics of our business across the globe, especially in our largest markets – the Philippines, North America, and China," Tanmantiong said during the company's annual stockholders meeting.
As part of its PHP7-billion business transformation, the company will also focus on its delivery, drive-thru, and take-out.
The company also talked about its cloud kitchens, which are small, unmarked delivery outlets that enable JFC to quickly expand delivery coverage.
For dine-in, given its importance to the business and especially as restrictions ease in different markets, the company expounded on its heightened in-store safety measures.
These measures include the installation of acrylic partitions on tables and counters and temperature checks before entry as applicable, the provision of sanitizers for customers, and the implementation of social distancing guidelines.
The company also bared its plans to expand and open new stores on a highly selective basis as more prime locations become available at lower rental costs.
JFC is seeing encouraging signs of recovery and improvement across its portfolio of brands. Sales recovery has already started in the US, China, Vietnam, Singapore, Hong Kong, and Brunei.
It is also seeing significant improvements in sales in the Philippines, especially with 50 to 75 percent dine-in capacity now allowed.
Meanwhile, JFC, through its social responsibility arm Jollibee Group Foundation, donated PHP220 million worth of food to frontliners and families in need in the Philippines -providing meals for 1.3 million frontliners, and 2.5 million food packs to over 500,000 indigent families.
JFC also allocated a PHP1 billion emergency fund to provide the full-month salary during enhanced community quarantine (ECQ) and advanced payout of 13th month pay for all of its work teams, including senior citizens and persons with disabilities (PWDs) assigned in the jobs program in partnership with local government units (LGUs).
The same assistance was extended to its partner employers to provide financial support to their employees. This was also in response to the government's call to assist workers during the health crisis. (PR)