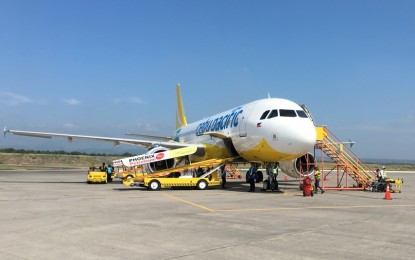 GENERAL SANTOS CITY – The completion of the PHP452 million new passenger terminal building of the city international airport here is facing another slight delay due to the coronavirus disease 2019 (Covid-19) pandemic.
Edgardo Cueto, manager of the Civil Aviation Authority of the Philippines (CAAP) here, said Tuesday installation of the remaining facilities of the terminal building has been stretched until September due to the late arrival of commissioned workers from Indonesia.
He said materials for the passenger boarding bridge have already arrived but it will be installed by the Indonesian supplier.
Once the workers arrive, he said they are still required to undergo mandatory quarantine for 21 days based on the protocol set by the city government.
"Hopefully the remaining components will be installed before the end of September," he said in an interview.
Cueto said the expansion and rehabilitation of the main airport passenger terminal building are now 85 to 87 percent complete.
He said joint venture firms Vicente T. Lao Construction and C.B. Garay Philwide Builders Inc. have been working double-time to complete the project, which was previously set last May.
The construction works were partially disrupted in March due to the Covid-19 pandemic but later resumed in full swing, with the temporary closure of the city airport to commercial passenger flights.
Cueto said they cannot say yet as to when the new airport terminal will become fully operational.
"Rest assured that we are regularly monitoring its progress and necessary adjustments are being made to fast-track the process," he said.
The airport terminal project, which started in June 2017, was part of the PHP959-million funding approved by the Department of Transportation in 2015 for the upgrading and improvement of the city airport.
It was originally targeted for completion in June last year.
The project includes the expansion of the airport's terminal building's arrival and pre-departure area and the improvement of basic facilities; upgrading of water supply facilities; upgrading of navigational aids; and improvement of various support facilities, including its power plant. (PNA)