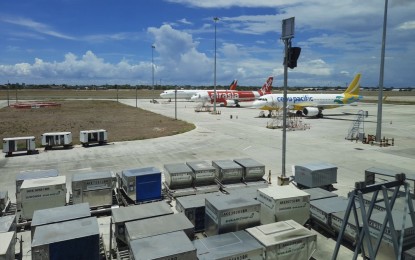 CEBU CITY – Anticipating the recovery of air travel amid the public health crisis, the Mactan-Cebu International Airport Authority (MCIAA) is bent on pursuing the construction of the parallel runway as part of its long-term development plan.
In a virtual interview here hosted by the Office of the Presidential Assistant for the Visayas on Tuesday, Lawyer Steve Dicdican, MCIAA general manager and chief executive officer, said the second runway will be dedicated for take-offs while the existing one will be for landings.
"We will continue with our projects. We're slowly catching up to full blast the construction of the second runway. We hope to finish it before the end of this administration, probably early 2022," Dicdican said, adding the need for continued capital spending to boost future growth despite the plummeting income currently.
He believes tourism can bounce back once travel restrictions are eased and anxieties of travelers are gone.
"We anticipate future growth. We need to ensure we are sustainable," Dicdican said. "We (the airport) will grow as the market grows. Our airport has a modular design so we can always expand. We are built for growth".
Although they are seeing passenger traffic plunging to three million in 2020, a level that was last seen more than 10 years ago amid the dismal air travel demand due to the coronavirus diseases (Covid-19) scare, he added the MCIAA is plotting a long-term goal as it slowly recovers from the impact of the crisis.
Dicdican said it will take about two years for the airport to regain its pre-Covid passenger traffic.
In 2019, the country's second biggest air gateway recorded 12.6 million passenger traffic.
"The impact is really big. Prior to Covid, we had 12.6 million in passenger traffic last year. Starting February this year onwards, traffic drastically went down," he added.
In June 2020 alone, MCIA's passenger volume only reached 26,018, marking a 98-percent drop from the 1.074 million recorded in June last year.
The passenger traffic for the first half of 2020 reached only more than 2.463 million, down 61 percent from 6.353 million in the comparable period last year.
Dicdican said at least four foreign airlines have already resumed operations at the airport. These are the Qatar Airways (Doha-Cebu-Doha), Jeju Air (Incheon-Cebu-Incheon), Silk Air (Singapore-Cebu-Singapore) and Jin Air (Incheon-Cebu-Incheon).
Local carriers Cebu Pacific, AirAsia and Philippine Airlines also have also resumed flights at limited frequencies.
MCIA used to have 28 commercial airline companies mounting flights to and from MCIA before the Covid-19 crisis.
While MCIA has started to resume airport operations, he added it will take time for the airlines to respond.
Before the Covid-19 pandemic, MCIA can accommodate some 1,900 commercial flights weekly and 31,100 passengers daily.
Airlines resuming flights to and from Cebu will also have to work to market their routes as travel demand remains low this time, he said. (PNA)