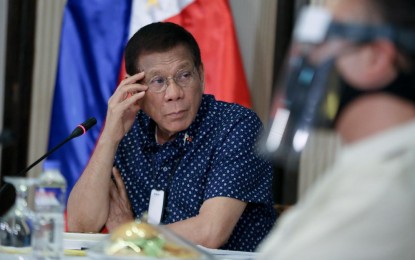 MANILA – President Rodrigo Duterte's independent foreign policy of being "friend to all, enemy to none" still stands, Malacañang said Tuesday.
Presidential Spokesperson Harry Roque made the remarks in a virtual Palace briefing in response to the statement made by Defense Secretary Delfin Lorenzana that Philippines will no longer be participating in joint maritime exercises in the South China Sea with other countries.
"Well, dati na pong polisiya ng Presidente iyan. Sa kaniyang independienteng panlabas na relasyon, kaibigan natin ang lahat, wala tayong kaaway (Well, that has always been the policy of the President. His independent foreign policy is friend to all, enemy to none)," Roque said.
Roque said the directive is meant to reduce tension in the disputed waters.
"Ang sabi lang ni Presidente, kung ang ilang mga gawain ng mga superpowers ngayon ay magreresulta sa mas matinding tension, iwas tayo sa mga ganiyang hakbang (The President just said, if some actions done by superpowers will result in bigger tension, let's avoid taking those steps)," he said.
On Monday, Lorenzana emphasized the importance of adopting a "prudent" and "careful" approach to confronting the sea row without undermining national interest.
"President Duterte has a standing order to us, to me that we should not involve ourselves in naval exercises in the South China Sea except our national waters, the 12-mile distance from our shores. So really we cannot do that, we cannot exercise with them in the South China Sea," he said.
In his fifth and penultimate state of the nation address on July 27, Duterte insisted that asserting Philippines sovereign rights over the West Philippine Sea would entail going to war with China.
"China is claiming it, we are claiming it. China has the arms, we do not have it so it's simple as that. They are in possession of the property... it's akin to they are in possession, so what can we do? We have to go to war, and I cannot afford it. Maybe some other President can, but I cannot," Duterte said.
Duterte, however, assured that the government "works without fail" in protecting Manila's rights in the region through diplomatic means.
Since the US released its new policy in the South China Sea deploring Beijing's sweeping claims in the region, tensions have been escalating between the two countries.
The resource-rich region is contested by the Philippines, Vietnam, Malaysia, Brunei, Taiwan and China.
In 2016, the Permanent Court of Arbitration ruled that Beijing's nine-dash line, an invisible demarcation laying claim on almost the entire South China Sea, is illegal.
Duterte, last year, made true his promise to invoke the arbitral ruling won by the Philippines against China after temporarily shelving it to make way for friendlier relations.
Chinese President Xi Jinping refused to recognize the arbitral ruling but vowed to avoid "provocative acts" in the contested waters. (With reports from Priam Nepomuceno/PNA)