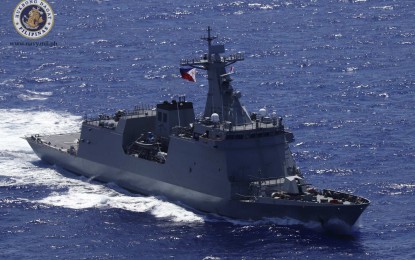 MANILA – The Philippine Navy (PN)'s first missile-frigate, BRP Jose Rizal (FF-150), departed from Apra Harbor, Guam on Wednesday, and is expected to arrive in Hawaii on August 14 to participate in the two-week Rim of the Pacific (RIMPAC) 2020.
"Participation in RIMPAC 2020 will serve as 'shakedown cruise' for the newly-acquired frigate BRP Jose Rizal (FF-150) to further test the ship's seaworthiness and performance," said Lt. Commander Ryan H. Luna, Naval Task Group (NTG) 80.5 public affairs officer.
RIMPAC 2020 will run from August 17 to 31 off Honolulu, Hawaii, and is described as the world's largest joint and combined naval exercises held biennially.
The BRP Jose Rizal arrived in Guam last August 2, four days after departing from Subic Bay, Zambales on July 29.
The NTG 80.5 is commanded by Captain Jerry Garrido, Jr., the commanding officer of BRP Jose Rizal, and is complemented by surface, services, and support components.
Also aboard the ship is an AgustaWestland AW-109 "Power" naval helicopter.
BRP Jose Rizal is the first warship in the Philippine Navy's inventory that is equipped with multi-dimensional warfare capabilities. (PNA)