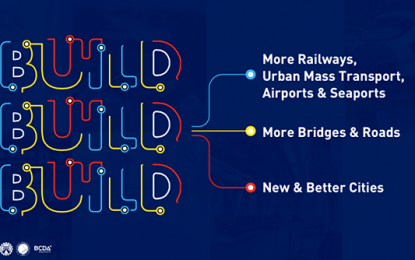 MANILA – Presidential Adviser for Flagship Programs Vivencio Dizon said on Thursday infrastructure projects under the administration's "Build, Build, Build" program will help in the recovery of the economy after shrinking for the second consecutive quarter.
The government reported a 16.5-percent contraction in the gross domestic product (GDP) for the second quarter of 2020 brought by the coronavirus disease (Covid-19) pandemic that made the country's decision-makers to impose community quarantine measures that restricted economic activities.
Dizon, however, sees a "silver lining" as infrastructure projects can fuel economic growth in the coming months.
In a joint Development Budget Coordination Committee (DBCC) press conference, he said the government has delivered infrastructure projects under the infrastructure program amid the pandemic.
"We have not only continued with 'Build, Build, Build' and our flagship projects, we will further intensify this in order for this to serve as a major driver in our recovery for the coming months," he added.
Dizon said the government has reprioritized the infrastructure program, retaining 92 flagship projects amounting around PHP4.1 trillion.
Eight projects that are still undergoing studies were replaced with projects that are ready for implementation and those responsive to the country's post-pandemic needs, he added.
"This (pandemic) should not deter us from pushing further the country's infrastructure projects. On the other hand, it should push us to invest more," he said.
Amid the community quarantine measures in the past months, various infrastructure projects were completed, including the Angat Water Transmission Improvement Project, which provides more water in Metro Manila and the Tarlac–Pangasinan-La Union Expressway Rosario Exit that cuts travel time between Manila and Baguio City to three to 3.5 hours from the usual six to seven hours.
Dizon said infrastructure projects that are nearing completion include Clark International Airport New Passenger Terminal Building that is expected to be fully operational in the first quarter of 2021; the Cagayan de Oro Coastal Road; the Bonifacio Global City-Ortigas Link Bridge that allows people to travel between the two central business districts in only five to 10 minutes; and the Metro Manila Skyway Stage 3 Project that will be completed by the end of 2020.
Since the "Build, Build, Build" program was launched in 2017, he said the Duterte administration completed 121 airport projects; 369 commercial, social, and tourism ports; 23,657 kilometers of roads; and 4,959 bridges. (PNA)