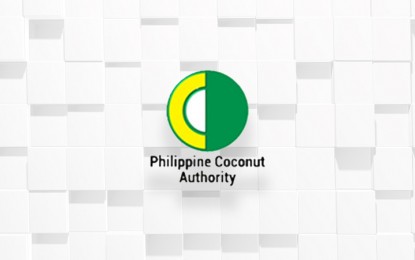 MANILA – The Philippine Coconut Authority (PCA) on Thursday kicked off this year's month-long celebration of the 34th National Coconut Week in a simple ceremony at the PCA Auditorium in on Elliptical Road, Quezon.
Themed "Masaganang Niyugan tungo sa Kaginhawaan", PCA Administrator Benjamin Madrigal Jr. said this year's celebration aims to "heighten people's awareness and appreciation for our industry's promising contribution to our country's economy and our people's well-being."
The month-long celebration, which is in accordance with Proclamation No 142 series of 1987, highlights the coconut farmers and industry that took a toll on the impact of the coronavirus disease 2019 (Covid-19) pandemic.
The PCA is collaborating with relevant government agencies and other stakeholders for a countrywide promotion of coconut as a "Healthy Food" for the Filipinos. Promotion of different uses of coconut products beneficial to health is important particularly in this time that people are conscious of their health.
The kick-off ceremony recognized different farmers in various contests, as follows: Cocolaki for the biggest coconut; Cocodami for the most coconut in a singer tree; Cocokapal for the thickest coconut; and Cocobigat for the heaviest coconut.
Various activities will highlight this year's celebration such as CocoMersyo that introduces online shopping of coconut products SUCs as VCO, coconut flour, coco Sugarol, cooking oil, and many more.
Cocosina is a series of online cooking sessions and demonstrations using various coconut food ingredients while Cocoskwela features online learning through a School on-air program. Launched in Lucena City, Region IV, online education will benefit farmers in the area.
The celebration will be capped with a Webinar series to discuss various issues affecting the coconut Industry and the farmers.
The 5-day webinar series is in partnership with the Coalition for Agriculture Modernization in the Philippines, Inc. (CAMP), a Securities and Exchange Commission - registered non-stock and non-profit NGO whose volunteer members are from agriculture, agribusiness, industry, academe, government, professional groups, and international organizations.
Madrigal said PCA will launch its transformation initiative to "start PCA's journey to becoming the leading agency in the agriculture sector, sterling a market-driven coconut industry with greater global reach and significance."
"Let's work together to achieve our common goal for the coconut industry to improve and benefit our coconut farmers and industry stakeholders," he said.
Members of the PCA Multi-Sector Advisory Board (MSAB) will take their oath during the celebration's closing ceremony on August 28 to signal PCA's enrolment to the Institute of Solidarity in Asia. (PR)