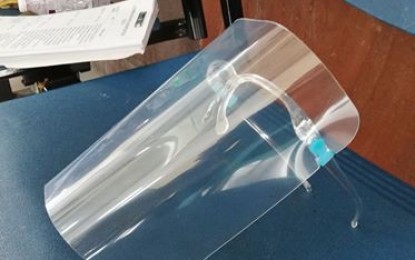 MANILA – Consumer advocacy group Laban Konsyumer, Inc. (LKI) said the suggested retail price (SRP) for face shield should be below PHP50.
In a radio interview Wednesday, LKI president lawyer Victorio Mario Dimagiba said the problem now with prices of face shields is like the problem in supply and prices for face masks in the first quarter of the year.
Dimagiba, who is a former trade undersecretary, said it will be hard to set the proper SRP for face shield at this time when there is already a government agency that requires wearing of face shield in public transportation.
"It seems they are not coordinated. Before declaring the policy, they should have known if there are enough supplies and what will be the prices," he said in Filipino.
Last week, the Department of Transportation issued a memorandum circular requiring passengers, drivers, and conductors of public utility vehicles to wear face shields starting August 15.
Before issuing the new policy, there were face shields that could be bought for PHP35 each as retail price.
However, prices have surged to PHP50 and even up to PHP100.
A consumer in Compostela, Davao de Oro told Philippine News Agency there are online sellers offering face shields at PHP300 per piece.
Dimagiba said consumers now become victims of profiteering.
"I don't think it should be PHP50; it should be lower than PHP50," he said referring to the SRP of the face shield.
To recall, demand for surgical face masks, particularly N95 face masks, surged in the country even before the Covid-19 outbreak due to the Taal volcano eruption in January.
Since it is advisable to wear N95 face masks, demand increased and prices rose from PHP40 to PHP100.
During the Covid-19 outbreak here in March, there was a shortage in N88 face masks as there was only one local maker before.
SRP for N88 face masks is set at PHP28 per piece, way higher than the normal retail price of PHP1 to PHP8 per piece.
"We are recreating our own problems," Dimagiba said.
Meanwhile, the Department of Health said it will announce SRP for face shields within the week. (PNA)