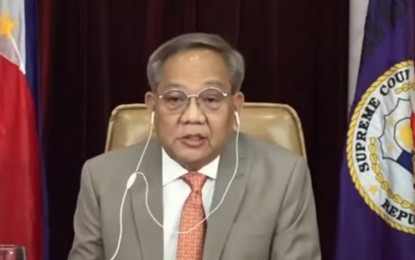 MANILA – Chief Justice Diosdado Peralta has sought help from retired magistrates to man the recently formed Judicial Integrity Board (JIB) and Corruption Prevention and Investigation Office (CPIO) in the Supreme Court (SC).
"The CJ (Chief Justice) wants this done as soon as possible. And he has confirmed that they have written the association of retired justices to request for interested applicants to be members of the JIB," court spokesperson Brian Keith Hosaka told newsmen on Friday.
The JIB would receive administrative complaints or disciplinary actions against either the presiding justices or associate justices of the Court of Appeals (CA), Sandiganbayan, Court of Tax Appeals (CTA), Shariah High Court, first and second level court judges, and the officers and employees of the Judiciary.
Upon preliminary assessment and evaluation of administrative complaints against all judges, involving less serious charges and light charges, the JIB may refer and delegate the investigation of those administrative complaints to the Office of the Court Administrator which shall terminate such investigation within 60 calendar days and shall submit its report and recommendation within 30 calendar days to the SC for appropriate action.
Anonymous complaints and reports received by chiefs and heads of offices and other court officials shall be immediately referred to the JIB for evaluation and assessment.
The CPIO, on the other hand, is empowered to conduct an investigation and/or intelligence, surveillance or entrapment operations or lifestyle checks to detect and identify justices and personnel who commit a violation of civil service rules, the code of conduct for court personnel, and penal laws including dereliction of duty; bribery; frauds and illegal exaction and transaction; malversation; removal, concealment or destruction of documents; anticipation or prolongation and abandonment of duties and powers of public office; usurpation of powers and unlawful appointments, among others.
Section 3 of SC's en banc resolution AM No. 18-01-05-SC issued in 2018 provides that the chairperson and vice-chairperson of the JIB must be a retired chief justice or associate justice of the high court.
The three other members must be a retired justice of the CA, Sandiganbayan, or CTA. (PNA)