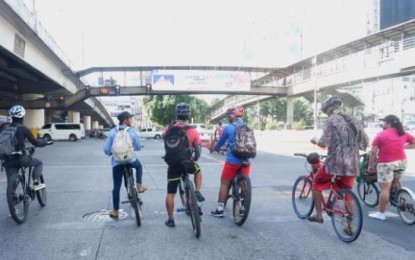 MANILA – The longest protected bicycle lane in Metro Manila is set to be launched at the Epifanio Delos Santos Avenue (EDSA) on August 15 to provide a safe space for bikers to pass through the major thoroughfares.
In a statement on Friday, the "Move As One" coalition announced that the protected bike lane will be launched on August 15 from 6 a.m. to 10 a.m., starting from EDSA Aurora in Quezon City towards the stretch going to Magallanes (Southbound).
"This will be the longest bike lane that will be launched in Metro Manila comprising six major sections," the coalition said.
These sections are Aurora to Santolan, Santolan to Ortigas, Ortigas to Shaw, Shaw to Guadalupe, Guadalupe to Buendia, and Buendia to Magallanes.
In an online press conference on Friday attended by government representatives, private partners, as well as civic groups and individuals that make up the Move As One coalition, transport planner and economist Robert Siy said bike lanes have transformed from something "nice to have" to a necessity due to the challenges on transportation created by the coronavirus disease 2019 (Covid-19) pandemic.
"Cycling enables those who are unable to access public transport to travel efficiently and with safe physical distancing," Siy said.
He said protected bike lanes, aside from improving road safety for its users, would support the country's economic recovery by providing transportation to workers without motor vehicles, easing the pressure on a public transportation system that already has reduced capacity, improve air quality, and reduce the risk of Covid-19 transmission in transportation.
"Bike lane development needs to be our highest priority in the transport sector," Siy said.
He added that the government should not hesitate to adapt vehicle lanes into protected bike lanes as bike lanes can move "more than five times the number of people compared to a car lane."
"Road space needs to be managed in order to maximize the throughput of people, rather than the throughput of cars. This principle should guide our decisions on the bike lanes on EDSA and on all other major roads," Siy said.
Yeb Saño, executive director of Greenpeace Southeast Asia and a member of Bikers United Marshalls, said that bicycles comprised of 41.5 percent of vehicles in Wuhan City, China during its peak of the Covid-19 outbreak, citing the Wuhan Ridership Report by the Wuhan Transportation Development Research Institute.
"According to the cycling report, for just one bike-sharing service, they provided 2.3 million rides in Wuhan between January 23 to March 12, with an average of 45,000 rides per day. Cycling is a real solution to this pandemic," Saño said.
Currently, he said that the Metropolitan Manila Development Authority (MMDA) estimates the number of regular cyclists in Metro Manila at 10,000. (PNA)