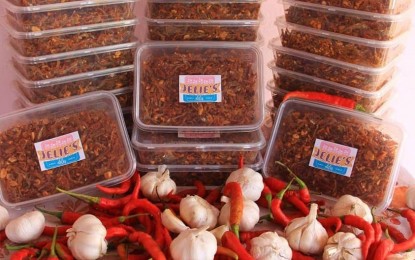 ILOILO CITY – A simple act of kindness has evolved into a thriving business keeping the Anilao community afloat amid the coronavirus disease 2019 (Covid-19) pandemic.
Jelie B. Buyco, 39-year-old public school teacher from the municipality of Anilao in Iloilo, started her flourishing Jelie's Dilis business with just a kilo of anchovies costing PHP480.
On June 16, she received a kilo of anchovies from a co-teacher, who regularly supplies her with dried fish. She cooked them and left one half for the front-liners as part of their meals when they are done with their duties.
She took a photo of the food, posted it on Facebook and tagged her husband, the town's disaster risk reduction and management officer.
When her co-teachers saw the post, they asked that some be left for them too.
At that time, her co-teachers were preparing the school to be used as the town's quarantine facility, she told the Philippine News Agency (PNA) in an interview on Friday.
Her co-teachers bought some of the cooked anchovies while she only needed a small amount to pay for the kilo of dried fish she got from her supplier.
When her cousin learned about it, she sent her half-sack or equivalent to five kilos of anchovies. Another friend sent her two kilos more.
She cooked and sold this batch in less than two days.
Through their group chat, she was informed by relatives that in Malaysia, anchovies are being mixed with nuts. So for two weeks, she did her research.
"Within two weeks, I made an experiment," she said and went through trial and error to perfect her product.
She then posted her product on Facebook and among those who replied are "very important people", she said.
She named her aunt, Dr. Cynthia Cabangal, as among those who first bought her product, next customer was Dr. Cecile Cabangal Gumarin, who is the wife of Guimaras Governor Samuel Gumarin.
Another classmate ordered and brought the items to the Girl Scouts of the Philippines Iloilo Council, which has an online sari-sari store. Her product also reached the Department of Education (DepEd) Division of Iloilo.
The news then spread and residents of Anilao working in call centers offered to become resellers for additional allowance.
Her former students also asked that they be allowed to resell so they can buy milk for their children.
Buyco said she allowed them to pay once they sold the products.
From three to six resellers, she now has more than 300 resellers in Anilao alone. "Every hour every day more resellers are added," she said.
Buyco also has a group chat for other resellers not from Anilao.
She said there was one wholesaler who wanted to buy her products in bulk but she refused because it would mean displacing her resellers leaving them with no income.
"I wanted my kasimanwa (townmates) to have income," she said, adding that she and her husband's advocacy is to help their townmates even in a little way they can.
In a day, she can process a minimum of 800 tubs at 135 grams per container. There was a time when they produced 1, 500 containers.
Her "dilis" comes in different variants: original, nutty sweet and spicy, and extra hot.
Through her resellers, her products have been shipped to Luzon and Mindanao.
Kristian JM Jagoreen, one of her resellers, shared that he saw his friends in Manila reselling the product when it went viral about two weeks ago.
"She told me how the 'dilis' frenzy started, how it has helped the community, and how I can earn from it, too. It didn't take much to convince me to order 25 packs that day. I sold it in three hours. In the next two days, I've ordered 150 packs more. All sold out in a matter of hours," he said.
Jagoreen now also has resellers in Antique and Capiz. In just three days, he earned PHP3,000, he said.
The best part of the story he said was "the fact that Jelie's business is helping a community thrive amidst the pandemic".
Buyco already hired 15 locals to help them in the production just after a month and three weeks in operation.
She is now looking for supplies of anchovies as far as Carles, Estancia, Batad, and Concepcion in Iloilo; and Roxas City in Capiz.
The local government of Anilao also took cognizance of her thriving business and farmers of the town are now encouraged to plant peanuts and pepper because they already have a sure market for their produce.
In a day, she said that she needs at least 40 kilos of pepper.
Buyco, the eldest of four siblings, is already married with a child yet she continues to help her family.
She has been working as a public school teacher for 10 years but she might apply for a temporary leave when needed to focus on the business.
"God is sending us the right person. There are a lot of possibilities, which if you will just imagine will not come true. But if you have the right causes, then you will be blessed. Goes does not sleep," she said. (PNA)