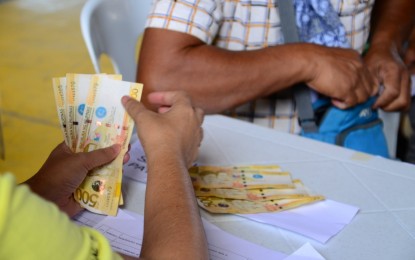 MANILA – Beneficiaries of the Department of Social Welfare and Development's (DSWD) Social Amelioration Program (SAP) can utilize their online savings accounts to earn extra money, an official said.
One of the agency's financial service providers (FSPs) for the distribution of SAP, Rizal Commercial Banking Corporation's (RCBC), on Monday shared that DiskarTech's compelling features on helping users gain income through its Member-Get-Member (MGM) promotion make for an alternative livelihood during the pandemic.
"This promotion has enabled Filipinos to have alternative livelihoods while under community quarantine especially when a lot of Filipinos lost jobs or had pay cuts because of the Covid-19 pandemic," RCBC executive vice president Lito Villanueva said in a statement.
DiskarTech's MGM promotion rewards those who refer friends and family to download and register in DiskarTech with PHP30.
This amount is automatically credited to their DiskarTech digital savings account upon successful account verification of the person they have referred.
The person who uses a referral code in registering will also get PHP10.
In an interview via e-mail, Villanueva shared that the beneficiaries of the government's SAP can avail of these features from their restricted transactional accounts or the DiskarTech Lite app.
"It being a restricted account, they can upgrade it to a full DiskarTech basic deposit account by downloading the mobile app within six months. They could now enjoy all the other benefits and services such as bills payment, fund transfers, 3.25 percent interest on their savings, e-load, insurance, and telemed purchase, among others," he said.
SAP 2 beneficiaries were provided access to these accounts upon successful on-ground face-to-face verification during the second tranche of SAP (SAP 2) payouts.
Soon, loan services will also be available for the users, he added.
The Banko Sentral ng Pilipinas (BSP) recommended to DSWD six FSPs which include RCBC, GCash, UnionBank, Robinson's Bank, Paymaya, and StarPay to hasten the distribution of aid to beneficiaries nationwide, noting that most of them are previously among the "unbanked population".
Aside from the MGM promotion, users can also earn by being a "NegosyanTech".
This is the term used for those who use the DiskarTech app to earn additional income through its various "paki-suyo" services.
These services include bills payment, telco loading, purchase of gaming pins, facilitating money transfer, insurance purchase, and more.
Those who don't have a DiskarTech app or a smartphone can ask a NegosyanTech to do these services on their behalf.
Financial inclusivity
In a text message, DSWD Undersecretary for operations Aimee Neri shared her excitement on the innovation that the FSP has offered to the low-income sector of society.
"Maganda itong i-present (This is a good idea, we can present this)," Neri, who also oversees the country's long-term program for poverty alleviation Pantawid Pamilyang Pilipino Program (4P's), said.
Villanueva, for his part, said RCBC fully supports the BSP's mission on financial inclusion, adding that DiskarTech also made it easy and simple to open a basic deposit account.
"With only one valid government ID, a DiskarTech user can be validated in minutes through electronic KYC (Know Your Customer). Once validated, a user can already start earning 3.25 percent interest on their DiskarTech deposit. For many, this will be their entry into the formal finance system," he said.
DiskarTech has also recently partnered with the Department of Trade and Industry (DTI) to bring the benefits of electronic payments to more than 1.3 million sari-sari stores and small business owners.
"We developed DiskarTech because we saw that there was no digital finance product catering to the needs of the unbanked and the underserved sector of our population. Considering that they are the majority, we thought this was a worthwhile project to pursue. What we are offering with DiskarTech is not only a solution that they can use for payments but more importantly for income generation," Villanueva added.
RCBC's DiskarTech app has recently set a new record of over 1 million new users after only 38 days since its launch last July, the banking institution shared. (PNA)