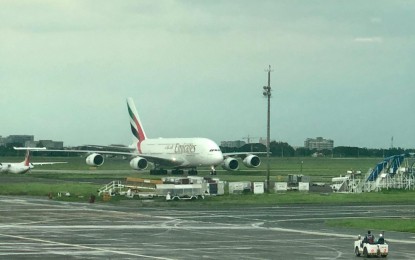 CLARK FREEPORT, Pampanga – The one-off A380 service of Emirates landed at the Clark International Airport on Wednesday, with 405 passengers on board.
The first A380 commercial aircraft to operate from Dubai to Clark aims to meet the demand for flights to and from the Philippines.
Welcomed with a water cannon salute, Emirates A380's flight EK 2520 departed Dubai at 2:40 a.m. and arrived at Clark at 3:23 p.m.
It is a special flight serving passengers from Metro Manila and the surrounding Luzon areas and beyond.
The return flight will depart Clark at 6:20 p.m., arriving in Dubai at 10:45 p.m. on the same day.
"We are proud to fly our first scheduled A380 service to Clark, in the year we are celebrating our 30th anniversary of serving the Philippines. Emirates has shared a long-standing relationship with the country and our commitment to it and our customers remains stronger than ever. We would like to thank the authorities in the Philippines for supporting us throughout the years. We resumed scheduled passenger services to Clark on August 1 with six weekly flights and have since been witnessing tremendous demand from customers in the UAE and other cities within our network to travel to the Philippines," Satish Sethi, country manager for Emirates-Philippines, said in a statement.
In addition to marking a milestone and making its debut to Clark, the highly-popular Emirates A380 aircraft will accommodate more travelers on the flight, while allowing them to experience its unique features and safety protocols put in place to protect customers and crew.
Emirates has been serving the Philippines since 1990 and inaugurated its first service to Clark in 2016.
In 2014, the Emirates A380 made a one-off trip to Manila, marking its first arrival in the Philippines.
Since the resumption of flights to Clark earlier this month, Emirates has seen a huge demand on its six weekly fights, as well as its daily flights between Dubai and Manila. On August 20, Emirates will resume its operations to Cebu.
The aircraft took to the skies again in July, and now serves destinations including London Heathrow, Paris, Cairo and Guangzhou. Its network grew further on August 16 with scheduled A380 services to Toronto.
Reverse transcription-polymerase chain reaction (RT-PCR) tests for coronavirus disease (Covid-19) are mandatory for all inbound and transit passengers arriving in Dubai (and the UAE), including UAE citizens, residents and tourists, irrespective of the country they are coming from.
Meanwhile, Bi Yong Chungunco, chief executive officer of Luzon International Premier Airport Development (LIPAD) Corp., operator of Clark International Airport, said, "a few days ago, LIPAD celebrated its first anniversary as the operator of CRK. Having the first scheduled A380 service in Clark on the week of our anniversary is a very welcome event especially during these challenging times. Together with our partners, we hope to make the journey of our arriving passengers as seamless and hassle-free as possible, while adhering to the guidelines set by our IATF (Inter-Agency Task Force) It is our goal that within three days time, our passengers should be on their way home after undergoing testing and quarantine."
In compliance with IATF standards, all 405 passengers of the international flight shall be subject to mandatory RT-PCR test at the airport and shall stay in a government-accredited hotel facility while they wait for the result of their test. (PNA)