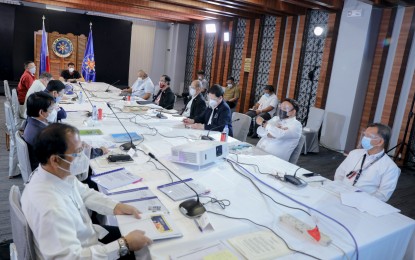 MANILA – The government has allotted over PHP12 billion to help Filipino workers here and abroad who were affected by the coronavirus disease (Covid-19) pandemic, the Department of Labor and Employment (DOLE) said on Tuesday.
Labor Secretary Silvestre Bello III said the funds were used in three major programs of the Duterte administration to assist formal and informal workers in the country as well as overseas Filipino workers (OFWs).
"For these programs, we have a total funding of PHP12.4 billion. Sourced from the DOLE 2020 regular budget, PHP4.8 billion; Bayanihan Act 1, PHP2.5 billion, and recently released repatriation funds of PHP5 billion. The OFWs are very thankful, Mr. President because we didn't ask for this fund but we were surprised when you gave us PHP5 billion for repatriation expenses," Bello told President Rodrigo Duterte during an Inter-Agency Task Force meeting in Davao City.
He reported that under Covid-19 Adjustment Measures Program (CAMP), they were able to provide financial assistance to a total of 662,213 formal sector workers with a budget of PHP3.3 billion.
Bello added that the funds for CAMP have been fully utilized in June.
"First major program of CAMP, it is a safety net that provides one-time financial assistance to the amount of PHP5,000 to workers in the formal sector where there is an employer-employee relationship regardless of course on the status of employment, regular, casual, contractual or even probationary," he said.
Bello added that applicants for CAMP have reached 1.6 million from nearly 60,000 establishments.
"Close to 1 million workers have not been served, however, Mr. President. All CAMP applications have been shared to the Department of Finance (DOF) and Social Security System (SSS) for their small business wage subsidy program," he said.
Out of this number, Bello said about 183,000 CAMP applicants have so far benefitted from the small business wage subsidy program of the DOF and SSS. (PNA)