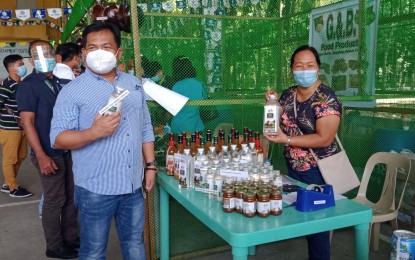 STA. BARBARA, Pangasinan – The Philippine Coconut Authority (PCA) is set to open a regional office here that will cover the Cordillera Administrative Region (CAR), and Regions 1 (Ilocos), 2 (Cagayan Valley) and 3 (Central Luzon).
"With the establishment of the regional office here, we would be able to focus on the coconut industry in the province. The supply of coconut planting material will no longer be a problem. We will boost the income of coconut farmers," PCA Ilocos regional head Dennis Andres said in his speech on Tuesday during the National Coconut Month celebration program.
Andres said PCA's mission in Regions 1, 2, 3, and CAR is to promote the planting of coconuts and also advance it as an important economic and valuable industry, which will address food security.
"We are staging the Kadiwa to show to the people that through the planting of coconut, you could derive 1.001 products. This day is the start of our mission to promote the value of coconut," he added.
In Pangasinan, the main sources of coconut are the towns of Bolinao and Anda. The supply is, however, low and could only meet a fraction of the demand.
A big chunk of coconut supply in the province comes from Quezon province and as far as Bicol region.
"Together with the provincial government of Pangasinan and other local government units, we will prepare a comprehensive plan for the development of the coconut industry in the province," Andres said.
Meanwhile, Andres said there are a lot of local government units (LGUs), associations, private groups from the regions who are working for the propagation at their nursery short term maturity coconuts, such as Tacunan and Catigan varieties, which start to bear fruits in two to three years.
He added they are requesting coconut seedlings but since they have no income yet while waiting for the coconut trees to mature, PCA will introduce and help them engage in inter-cropping.
"PCA will provide seedlings such as cacao, banana, or vegetables. If the inter-cropping will not fit in their location, we will provide livestock instead," Andres said.
Next year, around 500 will be beneficiaries of the PCA program.
Andres led the opening of the Kadiwa ni Ani at Kita Center together with Sta. Barbara Mayor Joel delos Santos and Board Member Liberato Villegas, chairman of the Sangguniang Panlalawigan Committee on Agriculture.
This year's theme is "Masaganang Niyugan Tungo sa Kaginhawaan." (PNA)