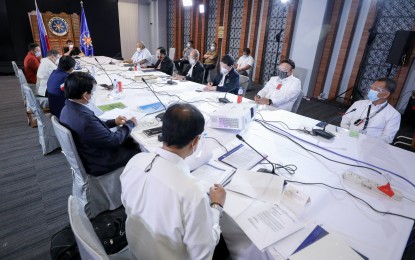 MANILA – Department of Social Welfare and Development (DSWD) Secretary Rolando Bautista on Tuesday said they have realigned their budget to provide funds for the social amelioration program (SAP).
Bautista, during a Cabinet meeting, reported to President Rodrigo Duterte that the SAP has a total budget of PHP207.6 billion.
"[From DSWD, we poured in] PHP10.6 billion from the realigned regular budget in order to support the necessary budgetary requirements of the program," he said during his presentation.
The total budget is broken down by the PHP197-billion fund rolled out by the Department of Budget and Management (DBM).
It was released in three tranches on April 2, April 16, and June 24.
In a viber message, DSWD spokesperson Irene Dumlao told reporters that they are now 93-percent complete in the distribution to some 14.1 million family beneficiaries.
Even with the delayed timeline, Bautista assured the public that they will complete the distribution to provide help to low-income family beneficiaries who were identified by their local government units (LGUs) as the hardest-hit sector of the public health crisis due to coronavirus disease (Covid-19) pandemic.
"The DSWD, along with its payout partners, both in direct and digital schemes have been working hard to secure 100-percent accomplishment rate," he said.
DSWD Undersecretary Rene Glen Paje said during Tuesday's uSAP Tayo virtual conference they have delivered PHP79,812,223,150 to 13,364,913 family beneficiaries nationwide as of August 25.
Of this number, 1,386,121 were Pantawid Pamilyang Pilipino Program (4P's) beneficiaries; 5,791,600 were low-income and non-4p's beneficiaries; 3,162,312 were waitlisted, low income, and non-4p's beneficiaries; 1,757,789 were waitlisted family beneficiaries from areas that were declared under the enhanced community quarantine (ECQ); 150,695 were transport network vehicle service (TNVS) and public utility vehicle (PUV) drivers; and 33,336 were drivers from ECQ areas.
Meanwhile, during the Cabinet meeting, President Duterte announced that he would take accountability for the fund released by the government during the pandemic.
"I will hold myself responsible for this sole and solemn duty of answering for and on behalf of the executive department of all the funds that were spent in the fight against Covid," he said.
The National Task Force for Covid-19 will provide a detailed report on how all funds were spent and also the intended purpose, the President said.
Certain measures will be put in place to ensure transparency in government expenditures, he added.
The Bayanihan to Heal As One Act has given the national government powers to provide emergency subsidies to low-income families.
The Joint Memorandum Circular No. 1 of 2020 stated that the subsidy shall amount to a minimum of PHP5,000 to a maximum of PHP8,000 a month for two months to provide for basic food, medicine, and toiletries. (PNA)