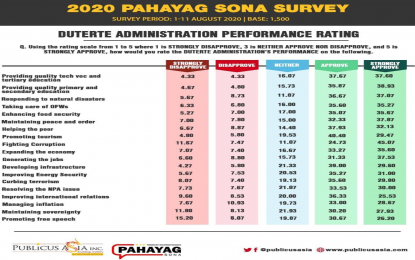 MANILA – Many Filipinos have expressed satisfaction with the resolve of President Rodrigo Duterte's administration to address several pressing issues that the country is facing, according to a poll by Publicus Asia Inc.
Results of Publicus 2020 Pahayag SONA survey on August 1-11 showed that the Duterte government received the highest total approval scores on providing technical-vocational and tertiary education (75.27 percent), providing quality primary and secondary education (74.8 percent), and responding to natural disasters (73.74 percent).
The current administration also posted high approval ratings on taking care of overseas Filipino workers (70.87 percent), enhancing food security (70.74 percent), maintaining peace and order (70.2 percent), and helping the poor (70.06 percent).
Filipinos were also satisfied with the government's commitment to promote tourism (69.87 percent), fight corruption (69.8 percent), expand the economy (68.87), generating jobs (68.86 percent), and develop infrastructure (68.6 percent).
The poll also showed that Filipinos appreciated the government's performance when it comes to improving energy security (66.27 percent), curbing terrorism (65.4 percent), resolving issues concerning the communist movement (63.53 percent), improving internal relations (61.86 percent), and managing inflation (61.67 percent).
The government also earned good approval scores on maintaining sovereignty (58.13 percent) and promoting free speech (56.87 percent), Publicus noted.
Publicus also revealed that 64.6 percent of Filipinos approved Duterte's work performance in the past 12 months.
Duterte's approval rating was highest in his bailiwick in Mindanao (79.1 percent), followed by Metro Manila (66.9 percent), the Visayas (64.7 percent), North Central Luzon (61. Percent), and South Luzon (51.7 percent), according to the survey.
Publicus interviewed some 1,500 adult respondents who are registered voters and residing in the Philippines.
The polling firm conducted an independent and non-commissioned survey. (PNA)