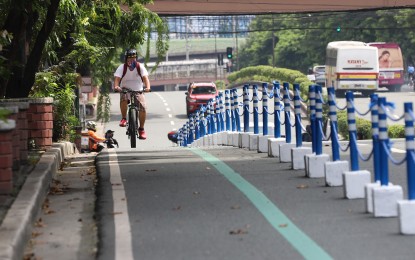 MANILA – More workers, particularly medical front-liners, are expected to use bikes going to work after the Department of Transportation (DOTr) announced on Wednesday that bike lane networks along major hospital districts across Manila and Quezon City are now open.
In a statement, the DOTr said interim bike lane networks in Manila cover Taft Avenue-Quirino Avenue-Roxas Boulevard-United Nations Avenue loop and can be used to reach several hospitals.
"This route serves medical facilities particularly the Philippine General Hospital, Manila Doctors Hospital, Manila Medical Center, and Ospital ng Maynila," the DOTr said.
In Quezon City, the DOTr said a bike lane network runs along V. Luna to East Avenue, Elliptical Road to G. Araneta Avenue via Quezon Avenue and Commonwealth Avenue back to the Elliptical Road. It would service several medical facilities including the Philippine Children's Hospital, Lung Center, Heart Center, Veterans Memorial Medical Center, and the East Ave Medical Center.
The DOTr, the Department of Public Works and Highways, and the Metropolitan Manila Development Authority (MMDA) designed the project that aims to build protected bike lanes to connect major roads, residential areas, and high-volume commuter areas to major medical facilities.
This, according to the DOTr, would make hospitals more accessible especially to medical front-liners.
To ensure the safety of the cyclists, it said bollards with cements and ropes were installed to serve as lane separators, separating cyclists from motor vehicle traffic.
It said road traffic signs were also placed to guide cyclists, motor vehicles, and pedestrians to avoid road accidents.
Last week, DOTr Assistant Secretary for Road Transport Steve Pastor said the bike lanes would eventually expand into a Metro Manila-wide bike lane network if funding could be secured from the "Bayanihan to Recover as One Act."
He said the network would include bike lanes along Metro Manila's circumferential and radial roads as well as other foot traffic-heavy locations such as Ortigas, Buendia, White Plains, Estrella, Ayala, and Manggahan. (PNA)